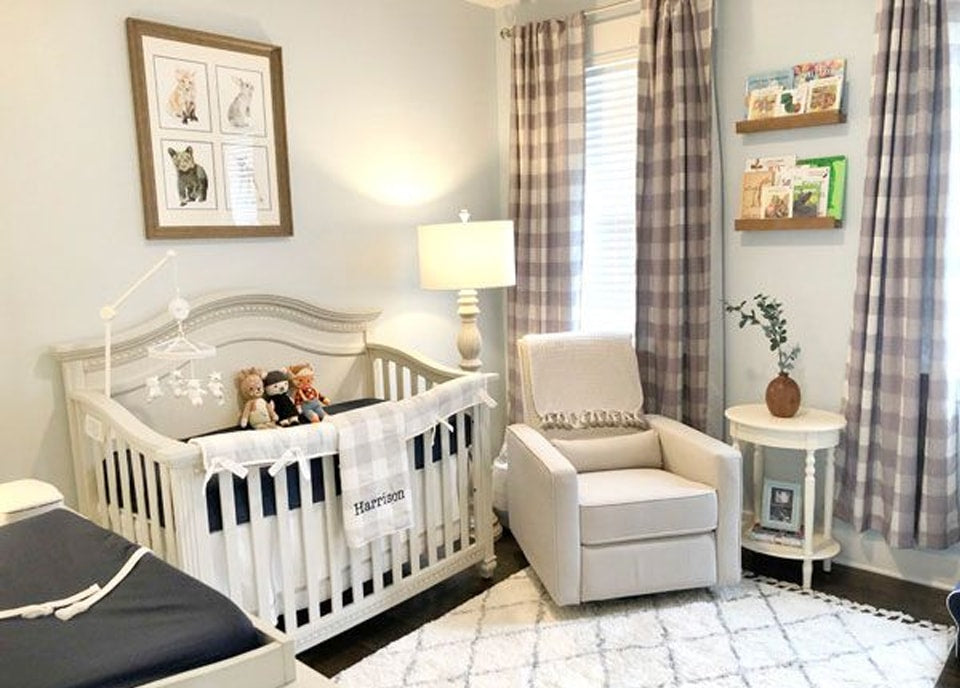 Soon it's time. There are just under two months until your offspring sees the light of day. The joy is already great, but with the furnishing of the baby room it increases even more. At the sight of the little bed with the cute little bear motif, your heart will warm up. Soon you will be dressing your baby on the changing table and cuddling with him every day. What other furniture you need for the design of your children's room and other tips for furnishing can be found in this guide:
Baby Cot - This furniture belongs in the baby room
A baby room should be a place where your offspring feels comfortable and where you and your child are happy to withdraw. When setting up, you should not only make sure that you like it, the design and the individual elements should also stimulate your child's senses. An inviting facility should also radiate a sense of security, calm and security and at the same time be as practical as possible for you as a parent. Which pieces of furniture you can set up the baby room with depends primarily on the age of the child and the space available. Here you will find an overview of possible furniture.
Immediately after birth, a baby needs relatively little furniture in its baby room. The basic equipment includes a baby cot for sleeping and a changing table. If the chest of drawers has enough storage space in the form of shelves, drawers or shelves, such a model is usually sufficient for the first few weeks. If there is little storage space, you can add an additional shelf. A good place for this is the area above the changing table. Here you have care products and baby linen ready to hand when you need them. Instead of a classic bed, you can also opt for a bassinet. It is equipped with wheels and is therefore mobile and offers the baby a sense of security thanks to its small lying surface.
You should use a soft cot bedding set so that your child lies comfortably when dressing and changing. Washable models made of waterproof materials are practical. In addition, a diaper pail makes sense so that the rubbish disappears directly and the baby room does not smell unpleasant. A roller blind to darken the windows and a baby duvet or a sleeping bag should not be missing.
Tip: Instead of one large light source in the form of a radiant ceiling lamp, it is better to create several small islands of light that provide soft lighting.
Additional storage and game storage along with baby cot
After the first six months, a lot of clothes, toys and cuddly toys have certainly accumulated. In order to store things properly, you should now put another baby cupboard or additional baby shelves in the baby room. An alternative to shelves are brightly colored toy chests that you can use to store toys.
Now that your child is at an age where they can start crawling and crawling on the floor, you should use a soft carpet as a pad. Make sure that this is also easy to care for and clean, because your offspring will certainly cause one or the other stain. If you prefer not to have a carpet, you can alternatively choose a playmat . The padded pads are a nice change with their bright colors and motifs. If you choose a model with a play arch, your child can train their motor skills and senses at the same time.
Tip: In small baby rooms, hanging shelves are a good way to save space. So your child still has enough space to crawl and play on the floor.
Cot bedding set and baby safety accessories
As your child becomes more mobile, you should make an effort to make the baby's room safe. You can cover open sockets with a special socket protector and sharp or angular edges can be rounded off with soft adhesive pads. A baby gate in front of open doors or landings is also a good purchase and prevents your child from crawling out of the room.
If your child sleeps in its own baby cot bedding set immediately after birth, a baby monitor should not be missing. This is particularly recommended if the master bedroom is further away. If you want to take a look at your child from time to time without having to enter the room, a model with an integrated camera makes sense.
Tip: With a baby furniture set or a complete baby room, you can not only save, you also have a baby room in one fell swoop that is coordinated in terms of the design of the furniture. This makes it easy to combine the individual pieces of furniture.   
Design baby room: ten tips for furnishing and safety
After the furniture has been selected, you can now set up and design the baby room. However, you should pay attention to a few important things that play a role in design and security. In the following overview you will find some tips.
Baby furniture should be checked for possible harmful substances. Furnishings that are particularly varnished or colored should be solvent-free. You can find information on this in the information on the respective product.
When changing diapers, you should always keep an eye on your child and never leave them alone. Therefore, you should place the necessary changing utensils as close as possible.
Baby cots should comply with the DIN standard DIN EN 716-1/2,which provides information about the spacing between the bars. This should be between 4.5 and 6.5 cm.
Tangible objects in the immediate vicinity such as picture frames, shelves or lamps should be attached firmly and securely.
A non-slip carpet underlay ensures that your offspring doesn't slip when they first try to walk because the carpet shifts.
It is best to air the baby's room several times a day. To do this, open the window fully for about ten minutes and ensure a draft.
The optimal sleeping temperature is between 16 and 18 degrees, for playing more like 18 to 20 degrees. With a weather station in the baby room, you can keep an eye on the temperature.
The baby cot should be placed out of reach of open windows or the heater. Also avoid the direct place under a skylight. The changing table and shelves with clothes should be in close proximity to each other.
Choose a different, gender-neutral color for furnishings and decoration instead of the classic blue and pink. Wall decals are a quick and easy way to transform walls and cabinet fronts as tastes change. The advantage: They can be removed without leaving any residue and allow the interior to be changed.
Sleep like under a starry sky? You can decorate the baby's room beautifully with bright star-shaped stickers. 
Romantic, modern and classic: baby room for your style of living
Do you like the rustic, natural country house style, the clean modern style or the reserved classic living style? Then adapt the baby room to your preferences and make it child-friendly so that your offspring also feel comfortable. Here are three inspiring interior design ideas for the different styles.
Country style: light woods and ornaments
A baby's room with furniture made of white-stained wood goes well with the romantically playful country house style of living. A baby cot with cot bedding small silver on the feet and decorative embellishments on the head and foot ends goes well with a changing table with brass knobs. Another option is a nostalgic bassinet with a canopy, placed in the middle of a soft flokati rug. Oval picture frames with the first footprints and handprints of your offspring hang on the walls and you paint the wall in a subtle beige tone with a green stripe as a splash of color.  
Modern style of living: contrasts and high-gloss materials
A baby's room in a modern style looks discreet and reserved. Choose a complete set with white, smooth, high-gloss fronts. In combination with black details on the drawers and chrome-look handles, the furniture fits well into a modern room concept. Place a cozy lounge chair in a beautiful shade of turquoise in the corner of the room and next to it a floor lamp with a silver-colored lampshade. Pictures with black and white photographs of your family complete the modern look.
Classic living style: playful elements and childish designs 
You set up a baby room in a classic living style with furniture made of light natural wood. A classic baby cot with decorative indentations on the side walls goes well with a baby closet in the same design. Decorate the baby cot with a bumper, a bed canopy and bed linen with cute bear motifs. There is a dark blue low-pile carpet on the floor, which harmonizes with the blue children's room lamp. A mobile above the changing table keeps things busy and long blackout curtains ensure a good night's sleep. 
Conclusion: Loving furnishings for the baby room
The baby room is the first home for your offspring and should therefore be lovingly and nicely furnished. In addition to the basic equipment, you have many other options for decorating and designing the room. The important information is summarized here:
The basic equipment in the baby room includes a cot and a changing table or changing table. With additional shelves and cupboard systems, you create more storage space for clothes and toys.
On a rocking chair or armchair you can breastfeed your child well at night and several light sources provide soft lighting. A roller blind to darken ensures a good night's sleep.
Childproof the baby's room with a socket protector, door screen, or padding. Never leave your child unattended on the changing table and remove loose objects that are within reach.
Do not place the bed or changing table directly under a sloping skylight. The bed should also be placed out of reach of a heater .
Baby room furniture made of white-stained wood with decorations on the fronts goes well with the playful country house style, a set with white high-gloss fronts and chrome-look handles looks modern, and you can combine light-colored wooden furniture with textiles designed for children with a classic interior.