WHAT ARE MICROFIBER DUVETS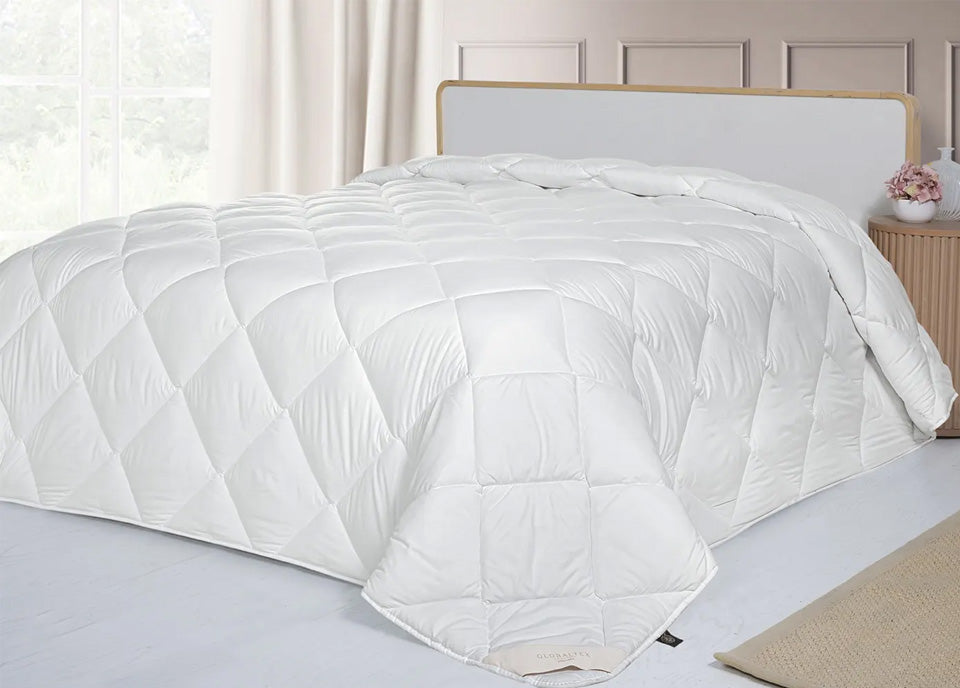 The days are getting shorter and the nights colder. The great summer was long - but the warm autumn and winter season is slowly beginning. That's why you exchange your thin bed corner for a slightly fuller one. Then, when it gets even colder in winter, you button both blankets together into one. Once again, you're glad to have your two-piece microfiber comforter for year-round use. It is easy to care for and has good climate properties. In this purchase guide you can read exactly what these are and what other advantages the blankets have.
Easy-care warmed - what distinguishes microfiber duvets
Microfiber duvets are made from synthetic fibers that are now very similar to down comforters in terms of thermal properties. They are easy to care for and can be machine washed at high temperatures, so you can keep them hygienically clean. Thanks to different fillings and degrees of warmth, you can use microfiber duvets all year round. Since you always sweat more or less heavily at night, the duvets are designed to absorb a lot of liquid - this ensures a good sleeping climate.
Inner and outer values: fillings, sizes, references
Microfiber duvets are available all year round, but also in special heat classes. They also differ in size. Here you can read which variants are available.
heat classes 
Microfiber duvets are available for different outside temperatures. Here we tell you when which heat class fits.
Do you live on the top floor or are you generally too warm? Then a light or even ultra-light duvet is for you. These blankets hardly warm and are therefore mostly used in summer. Their weight is usually up to 500 g.
Are you sensitive to neither heat nor cold? Then a duvet with medium heat output could be suitable for you all year round. Such a blanket usually weighs between 500 and 1,000 g.
If you count yourself among the frostbite,we recommend a blanket with a high thermal output. This then has more filling and weighs about 1,500 g.
You will also find variable duvets:The so-called four-season duvets or combination duvets consist of two duvets of different thicknesses that can be buttoned together. This creates an additional air cushion that provides more insulation. Practical: You can also use only one of the two blankets, depending on your needs. 
Duvet covers 
The duvet covers of the duvets are mostly made of soft microfibers like the filling. They nestle against your skin and feel comfortable on the skin. Since this functional fabric made of polyester fibers is very breathable, it promotes temperature regulation. The material reliably transports moisture away so that you neither sweat quickly nor freeze. There are also covers made of cotton, which is particularly skin-friendly.
Tip: Microfiber duvets are particularly good for allergy sufferers, partly because you can wash them at 60 °C. This kills dust mites. The NOMITE seal tells you that a duvet is suitable for people who are allergic to house dust mites.
sizes
Your new duvet should be neither too short nor too long. Here you can find out which blanket sizes are available for microfiber duvets and which of them suits you.
135 x 200 cm:This measurement is the standard size and is suitable for people up to about 1.80 m tall.
155 x 200 cm:This quilt is a bit wider and especially suitable for the colder months of the year.
155 x 220 cm:This longer duvet is a good choice for you if you are extra tall.
200 x 200 cm:Do you want to share a blanket with your partner? Then a double duvet in this standard size is a good choice.
200 x 220 cm:If you are both rather tall, an oversized double blanket is suitable for you.
240 x 220 cm:This is the largest double blanket in XXL format.
Three tips for caring for microfiber duvets
So that you can enjoy your new duvet for a long time, you should follow these tips for care and storage:
You should air and shake out your microfiber duvet every day. This allows it to dry and keep its shape.
Microfiber duvets are very easy to care for. You can wash them in the washing machineat up to 60 °C . But first, read the manufacturer's washing tips.
If you use several duvets alternately,you should keep the ones you are not using in a laundry bag in a dry place. This will prevent contamination or pest infestation.
Conclusion: You sleep well-tempered wrapped in microfiber
Microfiber duvets are easy to care for and are even suitable for allergy sufferers. Thanks to different sizes and fillings, you can choose a model that fits your needs exactly.
Are you a frostbite? Then an oversized microfiber duvet with a very warm filling is for you. The filling weight of most models is around 1,500 g.
Are you often too warm? Then we recommend a model with a light filling and a weight of around 500 g.
A duvet with medium thermal outputusually weighs between 500 g and 1,000 g.
Do you want to get under the covers together? Then the 200 or 220 cm extra-wide models are suitable.
If you are particularly tall,we recommend extra-long microfiber blankets of 220 cm.