HOW TO BUY CHAIR PROTECTORS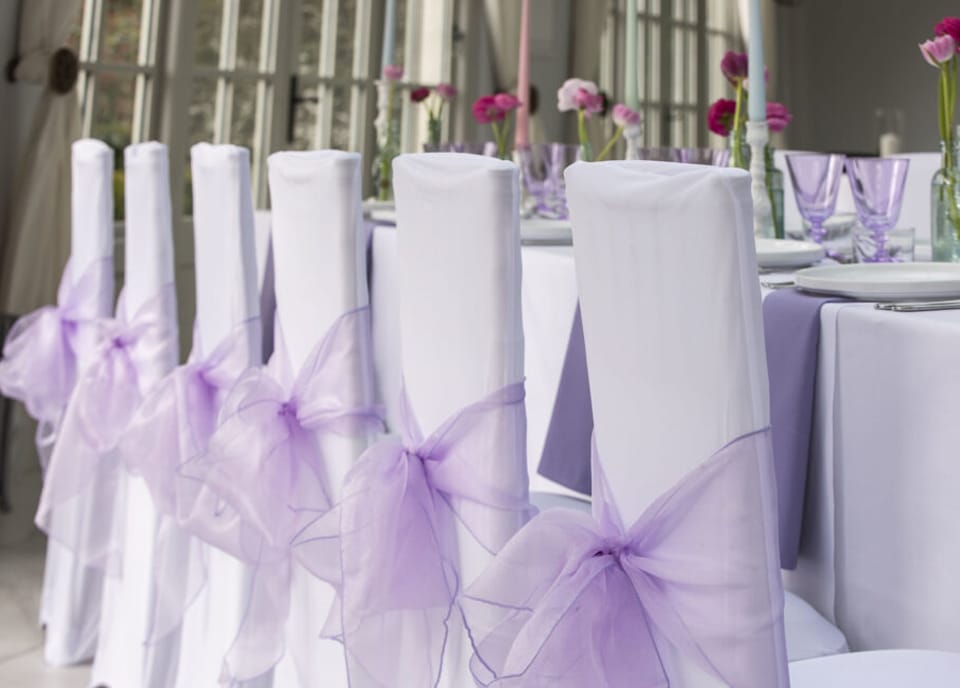 Protective chair covers for your seating furniture
Because your favorite series is on TV tonight, you make yourself comfortable in the cozy wing chair with matching stool. You put some snacks and drinks on the side table. During the show, you reach for your glass to pour more juice. Unfortunately, you spill something in the process. Luckily you have a chair protector so that the sticky liquid doesn't end up on the upholstery. You can read about the other advantages of chair covers and the materials they are made of here:
Simply throw it on: What are the advantages of chair protectors?
Wet pet paws, sticky children's hands or an accidentally spilled glass of red wine – armchairs take a beating in everyday life. Chair protectors are available to protect the upholstery from stains and dirt. On the one hand, they ensure that the seat remains clean. On the other hand, they also help to ensure that pieces of furniture do not wear out so quickly. For example, jeans can easily rub off on light-colored fabrics and rivets, buttons and zippers can scratch the fabric.
Incidentally, in contrast to a normal blanket, chair covers are designed in such a way that they adapt to the shape of the piece of furniture. Thanks to the non-slip backing, the cover stays where it should be. In addition, chair protectors are decorative and can change the look of your furniture with different colors and patterns. If the cushion is the same color as the armchair , it is hardly noticeable.
Soft to robust: chair protectors made of different materials
Chair protectors are made of different materials, each with different properties and advantages. We explain here what they are.
Cotton:Cotton is skin-friendly, soft and does not scratch. The material can absorb a lot of moisture and quickly release it back into the air. So you sit comfortably and dry. The sofa protectors are also tear-resistant and stretchable.
Chenille:Chair covers made of chenille feel velvety soft. They enhance your furniture because the surface of the material shimmers and shines slightly. In addition, chenille is hard-wearing and durable.
Mixed fabrics:If cotton is mixed with a synthetic fiber, for example polyester, it is a mixed fabric. This creates a material that hardly creases and is breathable and abrasion-resistant.
New wool:New wool protectors keep you particularly warm and are comfortable. The natural product has a temperature-regulating effect and therefore feels pleasant on the skin. In addition, the fibers can absorb a lot of moisture without feeling too wet and are very hard-wearing.
Synthetic fibers:Chair protectors made from synthetic fibers such as polyester or polyamide have the advantage that they are very hard-wearing, tear-resistant and elastic. The textiles are also very light.
Fully or partially encased: There are these variants of schooners
Seat, backrest, armrest - an armchair consists of several parts that you can protect completely or only partially. Here is an overview.
Armrest protectors:If you often lean on the armrests of your armchair while reading, signs of wear and tear will become noticeable over time. You can prevent this wear and tear with armrest protectors.
Runner:A chair runner only covers the seat and backrest of the piece of furniture. Depending on the length, it reaches just above the floor so that it covers the foot part.
Armchair and armrest covers:With this variant, both the seat and the backrest as well as the arm pads are covered with fabric.
Neck Pillow:A neck pillow protects the part of the backrest you rest your head against from wear and tear. Hair styling products can also damage the fabric.
Seat cushion:With a seat cushion you can only protect the seat. This makes sense, for example, if your pet lies here often or the pockets of your trousers are decorated with metal parts.
Tip: Some chair protectors have practical side pockets. Here you can store your remote control, mobile phone, glasses or book, for example, within easy reach.
Off to the washing machine: care tips for your chair protector
Chair protectors are usually in constant use. Therefore, you should wash them every now and then. Here are a few tips for that. Also pay attention to the care instructions on the product label.
Cotton:You can usually wash chair covers made of cotton at up to 60 °C. Because of the high washing temperature, such textiles are suitable for allergy sufferers or pet owners, as dust mites and pollen can be easily removed.
Chenille:You can wash chenille at 30 °C on a gentle cycle. The best way to dry the saver is to spread it out on a drying rack .
Mixed fabrics:You can clean mixed fabric textiles in the washing machine. The recommended washing temperature is on the manufacturer's care label.
New wool:The lanolin in the wool fibers ensures that the fibers are dirt and water repellent. Regular airing will eliminate creases and odors. The best way to remove heavy soiling is to wash by hand.
Synthetic fibres:Synthetic fibers can be cleaned in the washing machine at up to 40 °C . They dry very quickly and you don't need to iron them.
Conclusion: chair protectors protect and decorate your chair
Chair protectors are a practical and decorative protection for your seating furniture. They protect the upholstery and ensure that the fabrics do not wear out as quickly. In summary, here is the important information again:
With a chair protector you prevent stains and dirt. The covers also prevent the fabric from being damaged by clothing or prolonged sitting.
In contrast to a blanket, the sofa protector adapts to the piece of furnitureand does not slip. This is ensured, for example, by a non-slip back.
With a protector you can protect the whole chair or just parts of it. A seat and armrest cover covers the back and armrests as well as the seat, while a cover for the armrests only covers the arm pads.
Cotton models are pleasantly soft, skin-friendly and easy-care. Pads made of new wool keep you warmand have a self-cleaning function.