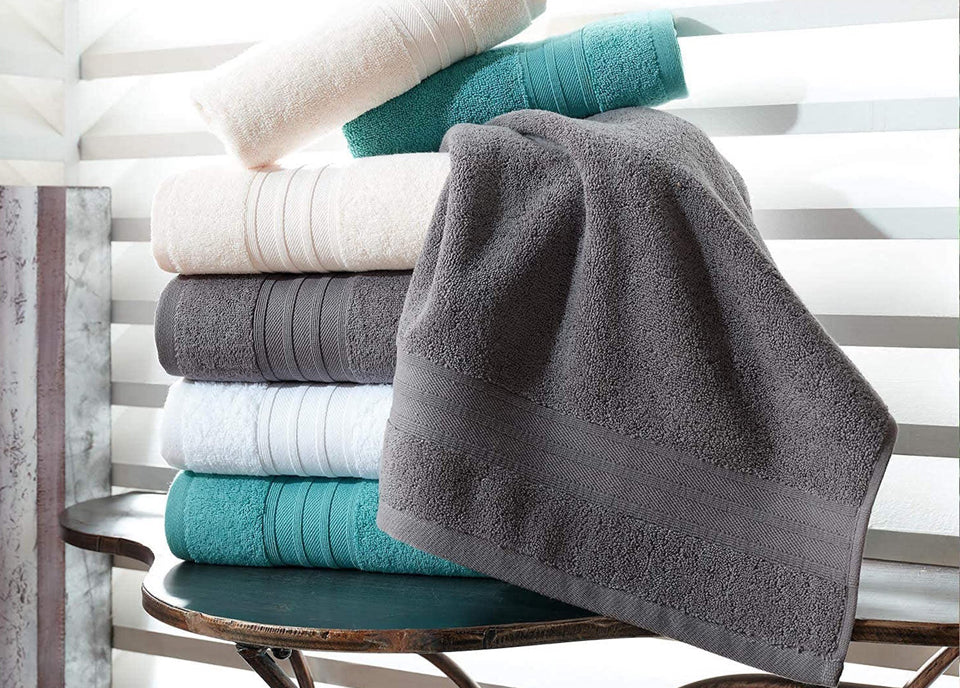 You close the bathroom door behind you and the fragrant steam fills your nostrils – the stress of the last few days is finally falling away from you. With a smile you climb into the bathtub and let the hot water soothe you. And after the bath, your feel-good routine continues as you wrap yourself in your large, soft bath towel . The large bath towel made of thick fabric lies gently on the skin. Find out here in which dimensions and designs there are bath towels and which models are suitable for which use.
Bath towels for quick showers and extensive wellness
The alarm clock rings, you turn on the coffee machine and jump into the shower - when you get ready for your day-to-day work in the morning, the towel should dry your skin quickly and well. With bath towels that are at least 70 x 140 cm, this is very easy. Along with beach and sauna towels, shower towels are among the large towel models - so they are large enough to dry you off well with them.
But with bath towels you not only dry yourself reliably during your morning routine. The large towels are often made of thick fabric and are nice and cuddly. The material flatters the skin - so bath towels welcome you soft and warm when you get out of the bath or shower.
Comfortable, durable and absorbent: the material of bath towels
Bath towels are made of cotton, terry cloth or a blended fabric with synthetic fibers. Some variants are also made of linen or microfibers. In this overview you will find out which material has which advantages and what it is suitable for.
Cotton: robust and kind to the skin
Cotton bath towels are skin-friendly and durable. Due to the coarse weave, they also absorb moisture well. The robust natural material can withstand a lot and is therefore suitable for everyday use.
Terry cloth: particularly absorbent
Terrycloth bath towels have loops that give the fabric more volume, allowing it to absorb a lot of liquid. A distinction is made between four types of terry cloth:
Walk and velor terry clothhave a soft surface and feel very gentle on the skin.
Drying off with bath towels made of strong twisted terry clothis almost like a massage.
Knitted terry clothis knitted instead of woven. This makes the towels particularly absorbent.
Mixed fabric: quick drying
Many bath towels are made from a mix of cotton and synthetic fibers such as polyester or polyamide. These variants dry very quickly. This makes them good companions when you go to the beach or to the sauna.
Linen: lint-free and easy to care for
Linen towels are made from tear-resistant flax fibers. The natural and skin-friendly material does not pill and is easy to care for. If you dry yourself with linen bath towels, the firm fabric has a light massage effect and can thus promote your blood circulation.
Microfiber: antibacterial and lightweight
Microfiber bath towels have woven cavities. They dry quickly and are antibacterial. Microfiber shower towels weigh very little when dry and can be folded very small. This is particularly worthwhile if, for example, you want to save space in your suitcase when travelling.
Tip: A quality feature can be the dry weight per square meter: it becomes particularly soft from 450 g/m². Wellness bath towels are a bit heavier at 600 g/sqm. A light terry towel usually weighs 400 g/sqm. But note: Very heavy does not necessarily mean good quality. The decisive factor is how high quality and absorbent the towel material is.
For at home and on the go: the right bath towel for you
Classic white or in saturated trendy colors, with a decorative border, stripes or wild patterns - bath towels not only have different thicknesses and dimensions, they also differ in their design. Use the following tips to find out which variant suits you best.
Home towels for a harmonious bathroom flair
With a towel set you equip your bathroom uniformly. The set includes several sizes in a uniform design. That looks tidy and tidy. A stack of bath towels that have different nuances of one color (e.g. different shades of blue) creates an equally harmonious picture. With contrasting colors like red and green, your bathroom will come alive.
Do you like to spoil yourself with an extensive wellness program? Then a large, soft bath towel made of velor terry wraps you warmly. If you want to take a quick shower, grab towels made of cotton or terry cloth. They are particularly absorbent.
Bath towel models for outdoor pools, saunas, etc.
Bath towels should be about 100 x 180 cm if you want to take them to the pool or the beach. You can also use the towel to lie down. In a crowded outdoor pool or on a long beach, you can easily recognize your bath towel when it's onhas a striking pattern or a bright color. For stays in wellness resorts, choose pure white bath towels or variants in delicate earth tones, which often blend in well with the feel-good atmosphere there.
Tip: You lie particularly soft on models made of thick terry cloth. If you swim a lot, choose thin cotton or mixed fabric bath towels – they dry very quickly.
Eight tips for proper bath towel care
To ensure that your bath towels stay as new for a long time and fulfill their purpose, here are a few important tips for washing:
You can put bath towels in the washing machine. Depending on the fabric, you set a temperature between 60° C and the cooking program - this also eliminates germs and stubborn stains.
Wash your bath towels separately from your clothes. Trouser buttons or zippers could get caught in bath towels and damage the material.
You should not load the washing machine too fullto protect the drum - because bath towels absorb a lot of water and become heavy as a result. Since shower towels are not prone to creasing, you can set a high spin speed - this way they dry faster afterwards.
If you put a few dashes of vinegar in the laundry, limescale will not be deposited in the fabric as quickly. Your bath towels will stay fluffy even without fabric softener.
Alternatively, you can knead your towels properly after drying to make them nice and cuddly again.
To avoid discoloration,use a heavy-duty detergent and sort towels by color before washing.
Towels with patternsor in bold colors usually retain their bright appearance better if you wash them regularly with color detergent.
Better to avoid ironing. The hot ironflattens the fabric fibers and loops, which can reduce suction.
Conclusion: bath towels to dry off and snuggle up in
Whether you want to quickly dry yourself after your morning shower or wrap yourself in a bath towel after a hot bath, bath towels are strong, absorbent and feel nice and soft on the skin. The large towels are available in different fabrics and designs:
For everyday use,thin towels measuring around 70 x 140 cm are a good choice. Cotton variants are particularly skin-friendly. Bath towels made of terry cloth can absorb a lot of moisture.
Towels made of a mixed fabric accompany you to the pool or to the beach . These models dry particularly quickly. You can also lie comfortably on the 100 x 180 cm models.
Microfiber bath towels save space when travelling . They are very absorbent, weigh little and can be folded up small.