HOW TO BUY BATHROOM MIRRORS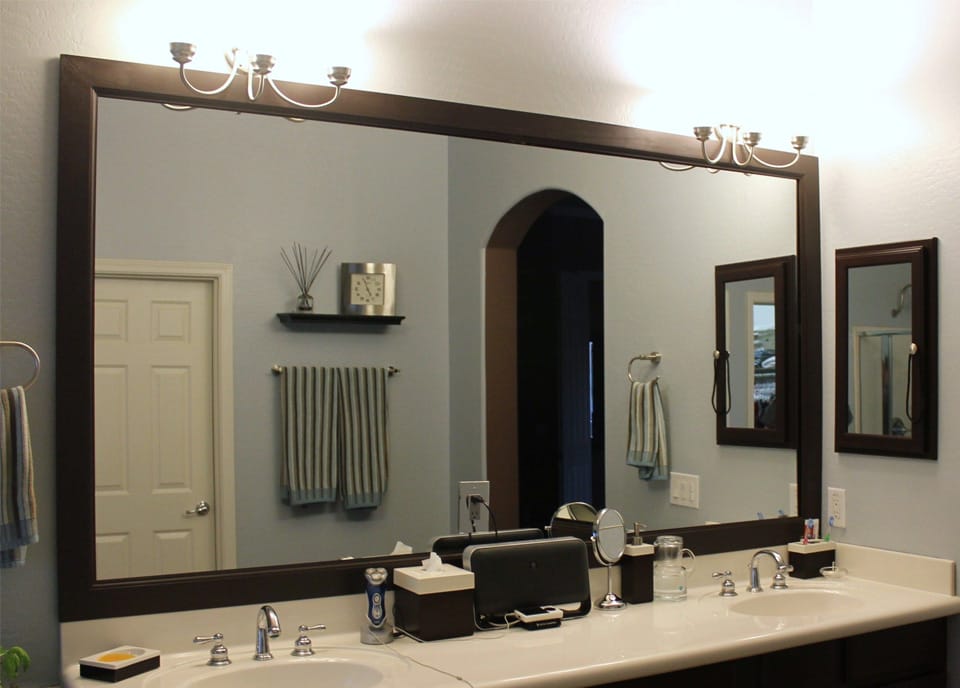 Functional mirrors for your bathroom
The alarm clock rings for the third time and now it's finally time to get up. You quickly slip into your bathrobe and disappear into the bathroom. After a refreshing shower, you stand in front of the bathroom mirror , which fortunately has integrated lighting, because it's still really dark in the bathroom so early in the morning. Now brush your teeth, then do your hair and get ready and you're ready for the working day. You can find the different models of bathroom mirrors and other useful information here: 
Practical and decorative: That's why bathroom mirrors are so popular
A bathroom mirror is used every day, because you make up in front of it every day. The mirror shows you your face and helps you with your daily care and beauty routine. A bathroom mirror is a useful helper when brushing your teeth, washing, putting on make-up or shaving.
Unlike other mirrors, which also have a decorative purpose, bathroom mirrors are primarily used as a styling aid. They are hung behind the sink at eye level, so you can always see yourself in them. The size usually depends on the size of the sink. Since it is often very humid in the bathroom due to the shower and the bathtub, bathroom mirrors are made of moisture-resistant materials and are therefore quite durable.
In addition to the typical mirror function, bathroom mirrors can also have other useful functions: There are models with integrated light strips for good illumination when applying make-up, variants with shelves for more storage space and even mirrors with a magnifying effect in which you can take a closer look at individual areas of your face.
Tip: If you have a small bathroom, choose a large bathroom mirror. Due to the larger reflection surface, it optically enlarges the room more than a small model. 
Light, magnification, shelves: These extras have bathroom mirrors
There are different types of bathroom mirrors. Depending on what your requirements are and what additional extras the mirror should have, different models are more suitable. Here is a brief overview of the variants and what the individual mirrors are particularly suitable for.
Bathroom mirror with lighting
A bathroom mirror with integrated lighting is particularly useful if your bathroom has no windows through which daylight can come in. Usually, a simple ceiling light is not sufficient to illuminate the area around the sink and around the mirror. It can then happen that the make-up becomes a bit blotchy, the rouge shines too dark on the cheeks or the shave is a bit imprecise. A model with all-round lighting is particularly good because it avoids shadows on your face and allows you to get ready without any problems. The light accents should be distributed more evenly around the mirror and not just illuminate it from one side.
Tip: If your bathroom mirror does not have any lighting, you can retrofit it with a clip-on light.
Bathroom mirror with magnification
A bathroom mirror with a magnifying effect is particularly useful if you literally want to take a closer look at certain parts of your face. The magnifying effect is already integrated in some models. If not, you can help with a separate cosmetic mirror . These clip on and swivel so you can see all parts of your face.
There are different magnification levels for different tasks. Three times magnification is usually sufficient for make-up, five times magnification for plucking eyebrows and seven times magnification is recommended for particularly intensive care.
Bathroom mirror with shelf
Do you have a rather small bathroom and need a little more storage space in addition to your bathroom shelves? Then a mirror with a shelf is a good way to store cosmetics, your toothbrush utensils or your razor. Even more space is available for models with side shelf elements .
With a mirror cabinet you can also protect the bathroom utensils from prying eyes. Brush, soap, brush and razor can be safely stowed behind the doors, so that your bathroom looks tidier.
Tip: Small pieces of jewelery such as ear studs are safe on a non-slip shelf.
Bathroom mirror with or without frame
Whether you decide on a bathroom mirror with or without a frame is primarily a question of taste. Models with a frame have a more decorative effect and make your bathroom more homely. If the focus is more on functionality, a frameless mirror is just as good. If you decide on a border, you should make sure that the frame is easy to care for and can be easily cleaned with a cloth. 
Brilliant diversity: These bathroom mirrors match your style of living
A bathroom mirror is usually the focal point of the bathroom and should therefore match the rest of your bathroom furnishings. After all, you look at yourself in it every day. Together with your other furniture and decorative objects, a harmonious picture should be created. Here are a few inspirational ideas.
Modern living style: mirror in a simple design
A large rectangular bathroom mirror without a frame fits perfectly into a modern bathroom interior that emphasizes simple and functional design. You can attach it behind a floating washstand with a high-gloss finish. Models with lighting such as individual bulbs attached to the side of the mirror provide a pleasant light. Combine this with anthracite-colored bathroom mats and soap dispensers as well as toothbrush cups in a cool chrome look.
Scandi style: mirror with a light look
A Scandi-style bathroom has an airy and light look. You can choose a bathroom mirror with a thin frame made of light-colored wood to go with it. Round shapes such as circles or ellipses are typical of this style. A high, ladder-shaped bathroom shelf can be set up next to the washbasin with a white vanity unit on narrow feet . You hang towels in a subtle sky blue over it. A soft bath mat with a long pile in a delicate gray rounds off the cool, Nordic style.
Country house living style: mirror in a romantic, playful look
For a country-style bathroom, choose a bathroom mirror with a romantic frame made of white-stained wood. Filigree millings and flourishes go very well with the country look. Bathroom shelves in white, with floral patterns milled into the door fronts, provide more storage space. Towels in a rustic shade of brown and curtains with lace underline the playful look. 
Cleaning and drilling: tips for bathroom mirrors
You should attach bathroom mirrors securely and securely and clean them regularly so that you can see yourself clearly in them at all times. The following tips show you what to look out for when drilling and how to clean the shiny surfaces without leaving streaks.
Think about where and at what height you want to hang the bathroom mirror. With the help of another person, hold it against the wall and look at yourself in it. If you can see your head well in it,the height is right.
In the case of bathroom mirrors with lighting, a power connection should be in the immediate vicinity. This is also useful for connecting hair dryers, shavers or curling irons.
Before drilling, check the wall for water and power lines with a pipeThis will ensure you don't hit any wires when attaching.
Check the rental agreement tosee if you can drill through your tiles. If not, you can drill the holes in the joints and then attach the mirror with suitable dowels and hangers.
If the bathroom tiles can be drilled through, you should cover the drill hole markings with masking tape. This is how you prevent yourself from slipping. Now drill the holes in at right angles. You should turn off the hit function.
If you don't want to drill, you can also attach the bathroom mirror to the tiles with special mirror adhesive.
To get the mirror clean without streaks, mix a liter of hot water with a little washing-up liquid, vinegar or spiritand apply the mixture with a soft cloth. Then wipe with a dry microfiber cloth.
If the mirror surface is fogged up after showering and bathing,you can quickly clear it with hot air from a hair dryer. 
Conclusion: Bathroom mirrors ensure glamorous moments
Bathroom mirrors are not only useful, but can also be used as a decorative element in the bathroom. They are available in different versions, depending on the function they are intended to fulfil. Read the important information summarized here again:
Bathroom mirrors with lightingensure pleasant lighting conditions in dark bathrooms. They illuminate your face evenly, so you can put on make-up and shave well.
Magnifying models offer a handy magnifying glass effectso you can get a closer look at specific areas of your face. This is very useful, for example, when shaving the edges of a beard or plucking eyebrows.
Mirror cabinets with additional storageand shelves offer additional storage space and are well suited for small bathrooms.
Frameless mirrors with side lighting look modern, round models with a thin wooden frame go well with the Scandi style, and mirrors with a white frame and filigree millings harmonize with the playful country house style of living.
When drilling, it is better to use the joints. It's even easier if you attach the bathroom mirror with a strong mirror adhesive.