HOW TO BUY KITCHEN FURNITURE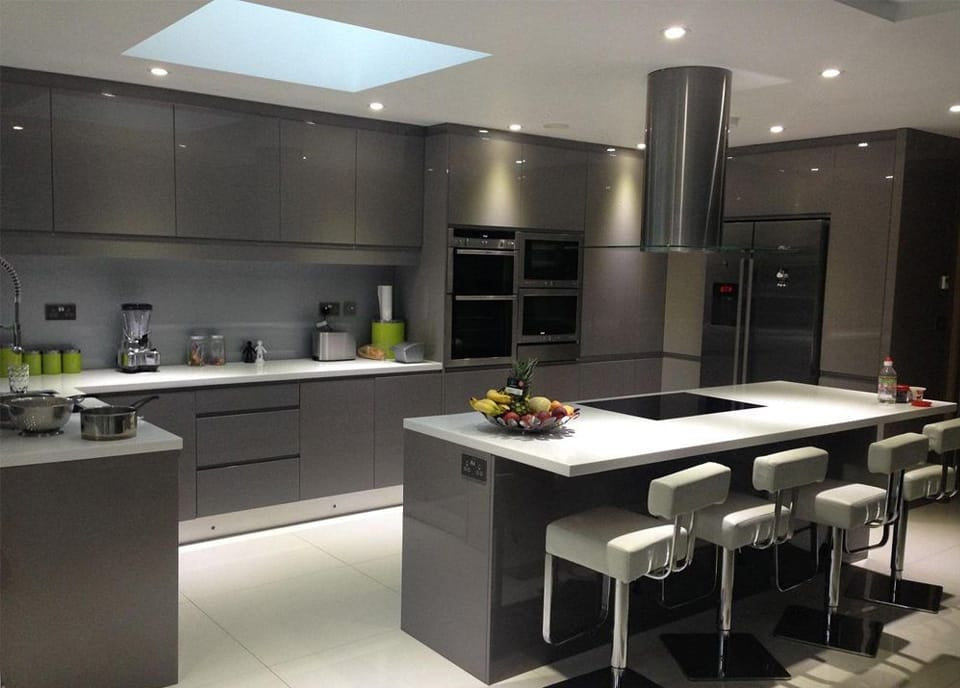 Kitchen furniture online shopping in Pakistan buying guide
Practical and attractive kitchen equipment makes your work easier and creates a place to feel good. This guide introduces you to important kitchen furniture and shows what is important when buying.
What furniture and accessories does my kitchen need?
countertops
Worktops are of central importance when processing food and as a storage and standing surface for kitchen appliances . For example, you need a surface for chopping vegetables on which the cutting board lies well. When cooking, everything that is needed can be provided on the worktop, from ingredients to knives or sieves. So you don't have to interrupt your work to frantically rummage through cupboards with possibly dirty fingers.
kitchen cabinets
Kitchen cabinets offer the necessary space to stow provisions, crockery, cooking and baking accessories , electrical appliances, kitchen towels and other inventory. There you can store everything away from dust behind revolving or sliding doors and sort them by topic. Kitchen base cabinets offer additional worktops at the top, wall cabinets save storage space.
kitchen shelves
Kitchen shelves are ideal for utensils such as spice jars that need to be within easy reach . Thanks to their open design, decorative storage containers, wine bottles or the chrome toaster can be staged. Depending on the spatial conditions, you can combine hanging, standing and wall shelves . Corner shelves and door shelves make good use of space in small kitchens.
kitchenettes
Like fitted kitchens, kitchenettes consist of coordinated kitchen furniture and fronts, but are not planned to measure. You can easily order them with the desired dimensions and as a row or in an L-shape. They are available with appliances such as a hob, oven, extractor hood and dishwasher, but also without such electrical equipment.
Kitchen table, kitchen chairs, bar stools and kitchen benches
Kitchen tables come in square or round shapes and can be placed in the middle or against a wall. Folding tables are useful in small kitchens because they don't take up space when not in use.
The kitchen table can be supplemented with matching kitchen chairs on which you can make yourself comfortable.
Bar stools or kitchen stools are a good alternative for quick meals such as breakfast: they can be placed on a cooking island or peninsula, for example.
Kitchen benches are a good choice for cozy seating areas and also save space.
You can use chest benches not only for sitting, but also as storage space.
Sideboards and buffet cabinets
A side board offers you an additional work surface for serving food. If necessary, shelf attachments expand the storage space to accommodate cutlery and serviettes, but also decorative objects. A mobile alternative to fixed sideboards are kitchen trolleys . They also offer space for utensils and a plate for assembling the meal, dessert or drinks.
Buffet cabinets also serve as multi-purpose furniture: they are a dining table, chest of drawers and wall cabinet in one. Kitchen inventory can be neatly stored in the compartments and drawers, which are often small. Glass showcases and open shelves are intended for the presentation of fine crockery or glasses.
kitchen lamps
Kitchen lamps appropriately illuminate the worktop and hob, for example with ceiling spotlights or LED strips on base units. Ceiling lights above the kitchen table create a cozy atmosphere.
kitchen decoration
With kitchen decoration you can underline and round off your style of living or set specific contrasts. The spectrum ranges from figures, vases and decorative bowls to pictures, wall tattoos and mirrors to curtains and window films.
kitchen textiles
A curtain or a roller blind on the kitchen window not only keeps the room cool in summer, but also enhances its appearance.
A doormat in front of the hob protects the floor from grease splashes and brings happiness into the room with a funny motif.
Kitchen textiles such as table runners and tablecloths are ideal for seasonal or occasional table decorations.
What should I look out for when buying my kitchen furniture?
size
The dimensions of the kitchen furniture should be precisely matched to the size of the room. Even small deviations can mean that you cannot fit all the furniture. In order to get exact values, it is best to use a range finder when measuring .
50 or 60 cm wide models fit into small niches . Corner and folding furniture also saves space.
In medium-sized rooms, compact 100 cm wide kitchen blocks are a good choice.
You can set up large kitchens well with an L-shaped kitchen unit measuring 3 x 2 m and with a cooking island.
materials
Kitchen furniture should be sturdy and easy to clean. Melamine resin-coated engineered wood is a solid choice here. Solid wood furniture also lasts a long time and is sustainable. Worktops made of stone or concrete are easy to care for and hard-wearing, marble, stainless steel and real wood look very elegant, while medium-density fibre board (MDF) is the first choice in terms of value for money.
colors and decors
In addition to classic white, beige and gray kitchen furnishings, you can also purchase the furniture in black or colors such as red, purple, green or yellow. The decors range from concrete look to wood decor to high-gloss fronts. So you can choose the furniture fronts to match the style of the rest of your home furnishings.
kitchen series
If kitchenettes, shelves and cupboards are part of a kitchen series , this makes it easier for you to put together your furnishings. The furniture is then designed in the same style, both visually and functionally , so that everything looks like it was made from one piece. You don't need to adjust when it comes to handling and operation either - for example, all drawers can then have a soft close mechanism.
Which kitchen equipment suits my style of living?
Kitchen equipment for the country house style
White or cream-colored real wood furniture made of beech, oak, alder or pine with worktops made of wood or natural stone suit you . Visible wood grains appear rustic and create a cozy and warm atmosphere. Wall cupboards with lattice windows and doors with style arch milling underline the style. A sideboard with decorative elements and filigree handles as well as a corner bench made of pine wood with a matching dining table also harmonize with other country house furniture .
Kitchen inventory in a modern style of living
Straight lines , smooth and high-gloss fronts in white or black and stainless steel worktops are typical. Kitchen cabinets with chrome handles look just as high-quality as models without handles. Characteristic are also LED lamps that set effective light accents. A sleek glass table and chromed metal chairs complement the style.
Classic style kitchen
Simple furniture goes well with a classic interior. Worktops made of durable solid wood or natural stone slabs are often used. Kitchen cabinets and a kitchenette with plain white fronts and functional handles are classics. A long white extendable dining table and upholstered leather chairs will also look great in your kitchen.
What should I consider when planning a kitchen? 8 tips
Kitchenette dimensions: Kitchenettes are standardized and have a standard depth of 60 cm. Since kitchen appliances such as hobs and ovens are also standardized, they close flush.
Space required for appliances: plan a width of 60 cm for each built-in kitchen appliance and 80 cm for the sink. A minimum width of 1 m is recommended for the work surface and storage space for small kitchen appliances.
Height of the wall cabinets: If you want to install wall cabinets, they should be mounted at a distance of 50 to 65 cm above the worktop in order to have a clear view of the worktop.
Adjust the kitchen equipment to your body size: In order for you to be able to adopt a back-friendly posture when working in the kitchen, the right height of the furniture is important. Stand up straight and bend your arms at a 90-degree angle. Then have someone measure the distance between the floor and your elbow. Subtract 10 to 15 cm from this value and you get the height at which the countertop should be.
Planning the layout: To begin with, consider whether you want an island, whether you want the hob and oven to be in one place or separate, and whether you want a U-shaped or L-shaped kitchen.
Check connections: Make sure that sockets, high-voltage connections and water pipes fit your plans.
Note the space requirements for doors and windows: Make sure that room doors and windows have enough swivel range. The countertop should end about 1 cm below the window sill.
Door stop of the furniture: If it can be changed before installation, you are flexible. Otherwise, you should also check here whether there is enough space to open it completely to the left or right.
We ship to Lahore Karachi Islamabad Rawalpindi, Faisalabad, Multan, Gujranwala, Gujrat, Sialkot, Sahiwal, Bahawalpur. and all other cities of Pakistan.