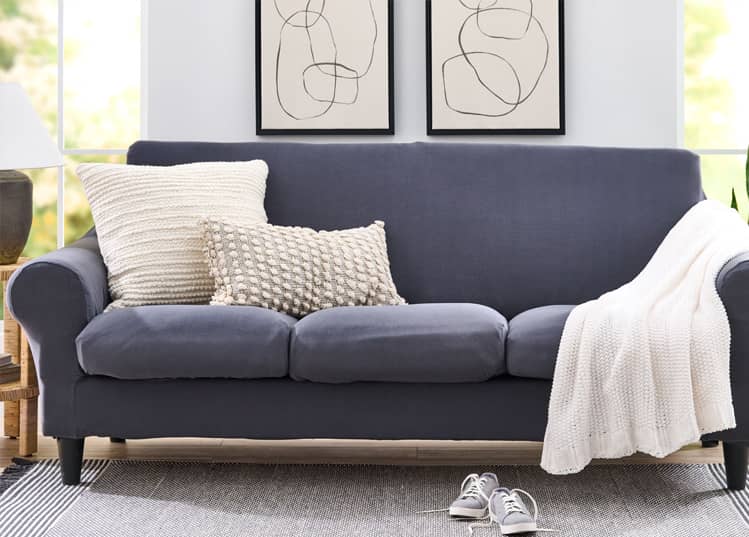 After some time in your new apartment you feel like making a change. You don't like the fabric of the sofa in particular. But since you don't want to buy a new couch because your favorite place is really comfortable, you decide on a plain -colored sofa throw with which you completely cover the upholstery. Now quickly pin the corners and the sofa looks completely different. This guide will show you what other advantages the throws have and how you care for them:
Protection and variety: What advantages does a sofa throw offer?
The noble family heirloom with the heavily used seats, the modern sofa set with a pattern that doesn't match the new carpet , or the light-colored two-seater with stains that can't be removed from the cover: throws offer many opportunities to protect and redesign your seating furniture.
Sofa throws are especially useful if you have children or pets. They are easy to remove and clean and protect your favorite piece from further wear and tear. You simply place the throw over the sofa like a bedspread and smooth it out on the seats.
Material, design and size: you should pay attention to this when buying
Sofa throws are designed to protect your seating and give it a new look. You have the choice between different designs, sizes and materials. You can read here what you should pay attention to when buying.
The material
Solid, hard-wearing fabrics are particularly suitable for sofa throws . Models made of cotton and mixed fabrics are particularly easy to care for and nestle comfortably against the skin. Synthetic fibers like polyester are just as soft, but they are more durable and don't wear out as quickly. In addition, the colors look fresh and strong for a long time. Blended fabric combines both advantages: durability and a pleasant feel.
The size
Similar to a slipcover on a chair , sofa throws can completely cover your living area or just the seat and backrest as narrow runners. If you like it a little looser, then a large model that reaches to the floor is a good choice. With smaller throws, on the other hand, you can cover signs of wear and tear on the upholstery.
The design
There are almost no limits to the design. Brightly patterned or simply in subtle uni colors, variants with playful fringes that are reminiscent of a patchwork quilt, or reversible throws that bring even more variety - the selection is large. Choose a model that harmonies with the rest of your furnishings and fits into your style of living.
Take your measurements: This is how your sofa throw sits correctly and securely
Basically, the sofa throw works like a bedspread that you simply spread out over your sofa. The following tips show you how to find the right size and how to fix the lengths of fabric.
Measure the length, width and height of your seating furniture and choose a suitable size. Many manufacturers offer the throws in different sizes.
Lay the sofa throw over your cushions and press in the fabric at the edges of the seat so the seat is smooth.
For sets with upholstery joints, you can clamp the blanket into the joints and fasten it with foam strips.
For variants with ribbons, you can tie them together on the outside and fix them in place. It looks particularly decorative with a bow.
Five care tips for your sofa throws
It's easy to spill some juice or a few crumbs end up on the sofa cover while eating. Since you can easily remove the throws, you can simply put them in the washing machine. You can find out how to get the fabric ceilings clean again here.
Note the care instructions on the product label. They also provide information about the temperature at which you can wash your sofa throw.
Shake the throw out regularly or vacuum it with the vacuum cleaner 's upholstery attachment . So crumbs and fluff disappear very quickly.
Avoid direct sunlight as this can cause the colors to fade.
For colorful blankets, use a color detergent and use fabric softener to keep the material pleasantly soft.
After machine washing, unfold the throw and place it on a large drying rack . Here it can dry and stay in shape.
We ship to Lahore Karachi Islamabad Rawalpindi, Faisalabad, Multan, Gujranwala, Gujrat, Sialkot, Sahiwal, Bahawalpur. and all other cities of Pakistan.
Conclusion: Sofa throws protect and beautify your couch
Would you like a new look for your couch or is it a bit older and you want to hide or prevent small signs of wear and tear? Then a sofa throw is a good choice. Read important information summarized here again:
Sofa throws should be made of sturdy materials so that the sofa underneath is well protected. Soft cotton or durable polyester is suitable. Mixed fabrics combine the positive properties of the different materials.
In terms of size, you can choose between models that completely cover the sofa and reach the floor, or narrow variants for the seat and backrest.
Secure the sofa throws with ribbons or foam strips that you push into the upholstery joints.
Sofa throws are machine washable. Please note the care and temperature instructions on the product label.