ADVANTAGES OF KITCHEN WALLPAPERS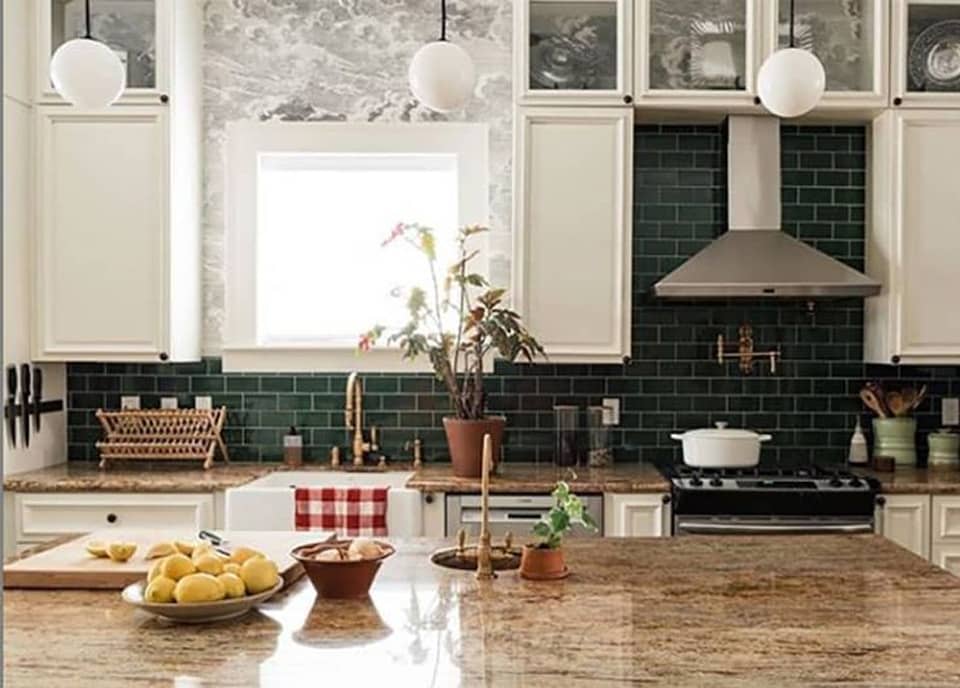 Kitchen wallpaper online shopping in Pakistan buying guide
Oh no, now it happened: the sauce tipped over and the wall got a few splatters. Luckily you have a rag to hand and can easily remove the stains from the wipeable kitchen wallpaper .  everything is clean again. In the following guide you will find out what else makes the robust wall cladding so special and which materials are suitable for the kitchen:
Sturdy wall coverings: the advantages of kitchen wallpaper
Cooking, sizzling and baking take place in the kitchen . Something can quickly go wrong. And then not only the floor and the work surface but also the kitchen wallpaper gets a splash or two. It is therefore particularly important that your wallpaper is robust and durable. Kitchen wallpaper has a fade and scrub resistant surface and is washable and resistant to water and steam. Small stains can be wiped off without much effort.
Tip: If you also want to wallpaper behind the hob, kitchen splash backs made of glass or plexiglass are a good choice to protect the wallpaper from stains. You can also paint them over with transparent acrylic paint or latex paint to protect them.
A little knowledge of materials: suitable wallpaper for the cooking area
The kitchen is exposed to very special conditions and temperature fluctuations, often over several hours. The kitchen wallpaper should therefore be as easy to care for as possible. Here we show you which materials are suitable for wall cladding.
non-woven wallpaper
With non-woven wallpaper, you can apply the paste directly to the wall and attach the strips of wallpaper made of textile and cellulose fibers without soaking. So you can do without a trestle table. The mixture of fibers makes non-woven wallpaper particularly hard-wearing and resistant to moisture. Kitchen vapors can therefore do little to harm them. This variant is therefore also suitable for use in wet zones.
paper wallpaper
Unlike non-woven wallpaper, you apply the paste to the strips of paper wallpaper . After a short exposure time, you can then attach it to the wall. Paper wallpapers are mostly made of recycled paper, which makes them relatively inexpensive and also environmentally friendly . They are moisture-regulating, breathable and resistant to solar radiation.
Tip: The higher the weight, the higher the quality. High-quality paper wallpapers are more robust than the lighter ones.
vinyl wallpaper
A plastic surface made of polyvinyl chloride (PVC) makes these wallpapers particularly hard-wearing and therefore versatile. Vinyl wallpapers have a scrub-resistant surface and are well suited for kitchens and bathrooms.
Living style advice: This wallpaper suits your kitchen
With a wallpaper you give your kitchen a personal touch and complement your furnishing style. Are you still thinking about which motifs would go well with your home? Here you will find design ideas for modern, vintage and country house living styles.
Wall wallpaper with a stone look goes well with the modern style of living. The modern look harmonies particularly well with the calm and elegant design of the rest of your kitchen equipment. A kitchen wallpaper with a striped look and in modern colors such as Bordeaux and cream also underlines the linear look.
Kitchen wallpapers in retro design go well with the playful vintage style . Colored circles, geometric patterns and curved lines and delicate colors such as light blue or gray are great design options. Wallpaper in a gray concrete look also underlines the nostalgic retro charm.
The country house style is characterized by natural materials and earth tones. A kitchen wallpaper with natural patterns goes particularly well with this look. How about, for example, motifs such as a birch grove or a blooming meadow landscape? This is how you bring a piece of nature into your city kitchen.
Attach kitchen wallpaper: three tips for wallpapering
Would you like to change the look of your kitchen and now all you need is the right wall covering? With these three tips you can transform your kitchen walls into small works of art.
Plan enough material, because nothing is more annoying than realizing in the middle that the kitchen wallpaper is not enough. The required number of square meters can be easily determined. It is based on the standard size of a wallpaper roll with a width of 0.53 m and a length of 10.05 m. Simply divide the width of the wall by the roll width and round up the result.
Cover your kitchen unit with a protective film so that the fronts and devices do not get any paste. As a precaution, you should also cover the floor with foil or special painter's fleece.
With a practical wallpapering belt bag, you have all the tools at hand, and a matching ladder offers you a secure footing while you work.
.
Conclusion: robust kitchen wallpaper in your style
Kitchen wallpaper is a great way to add color and life to drab walls. Especially in the kitchen you should pay attention to good materials. In the summary we have put together the important information for you again:
Kitchen wallpapers are scrutable, washable and resistant to water and steam. Stains can be easily removed from the usually sealed surfaces.
Non-woven wallpapers are particularly resistant to moisture, paper versions are breathable and lightfast, and hard-wearing vinyl wallpapers have a scratch-resistant surface.
Kitchen wallpapers with a stone or linear stripe look match the modern style of living, while retro and concrete designs underline the vintage look. Nature prints like trees or flowers have a rural effect.
Before you start wallpapering, plan enough material and tape the rest of the kitchen furniture and the floor with painter's fleece.