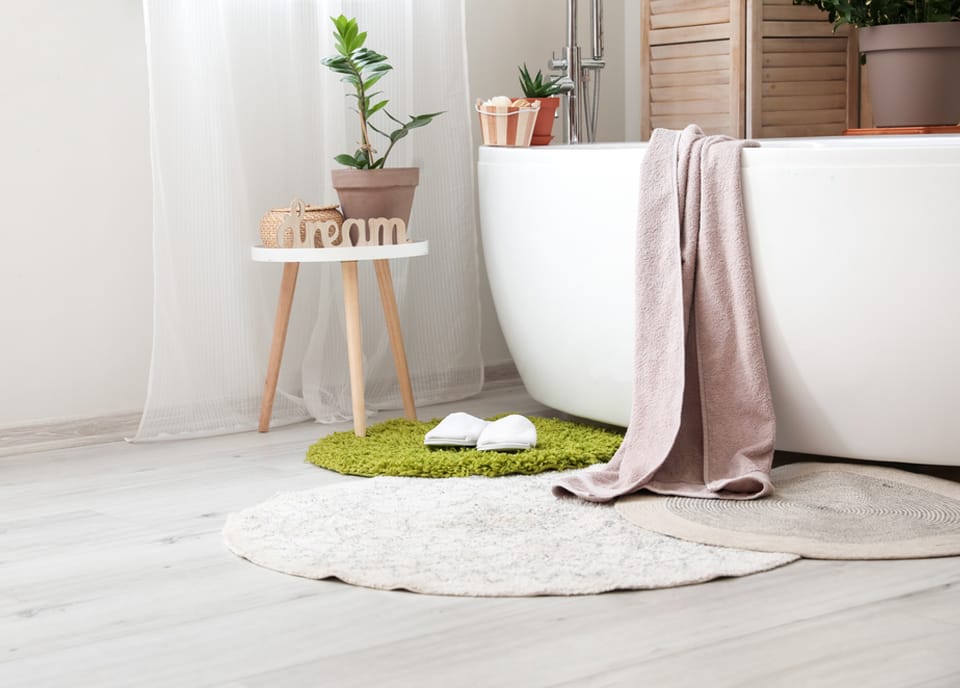 The warm water of your morning shower flows comfortably down your body. The shower gets you ready for the eventful day. But at some point the fun is over. When you get out of the tub, you immediately feel a pleasantly soft feeling under your feet, because the bath mat is right in front of you. The colorful fabric runners not only add color to your bathroom, but also prevent you from slipping on the cold, slippery tiles. Use this guide to find the right bath mat to start the day safely and with warm feet.
Soft pads for your bathroom floor
A bath mat is usually placed in front of the shower or bathtub to give bare feet a soft pile and catch the last drops of water. Compared to a regular carpet runner , a bath mat is made of a highly absorbent material that is also suitable for damp rooms. In addition, bath mats are particularly fluffy and come into their own in your private spa area thanks to their great look. You can not only choose a single mat, but also a coordinated set of bath, toilet and washbasin mats and toilet covers.
The majority of bath mats have a non-slip coating on the underside, which ensures that the mat stays exactly where it should. If you have a bathroom with underfloor heating , you should make sure that the mat is suitable for it. Otherwise the coating may peel off over time due to the heat.
Tip: If you have pets that are also allowed in the bathroom, then make sure that you can wash the bath mats at 60 degrees. 
Cotton, synthetic fiber or wood? This is what bath mats are made of
The pile height of bath mats ranges from 5 to 45 mm. For many models, the total weight is also specified, which allows conclusions to be drawn about the material thickness. Typically, the tighter the fabric is woven and the higher the pile, the warmer and softer the mat. However, the main focus when buying the rug is usually on the material used and its advantages. Here you get a small overview of the materials available.
Pure cotton: good for the indoor climate
Pure cotton bath mats are very skin-friendly. The material is able to absorb large amounts of moisture, but also dirt, and release both easily. A cotton bath mat will quickly become clean again with regular vacuuming, washing or dry cleaning.
Like most natural fibers, cotton is extremely robust and breathable, which positively supports the indoor climate. Models made of organic cotton can complement your bathroom accessories as an ecological alternative .
Synthetic fiber: bright, long-lasting colors
Synthetic fibers such as polyacrylic or polyester microfiber are particularly soft and dimensionally stable. The hard-wearing, abrasion-resistant material is also very lightfast and colorfast. Luminous colors are preserved for a long time and do not fade or only fade slightly.
With synthetic fibers, moisture hardly penetrates the individual fibers, so most of the water droplets remain on the surface. You can easily absorb the moisture with a cloth. Accordingly, bathroom rugs made of synthetic fibers are quickly dry again after washing. Families where several people shower one after the other also benefit from quick-drying rugs.
Mixed fabrics: the advantages of two materials
Mixed fabric bath mats combine the advantages of the individual fibers. For example, a model made of a cotton-acrylic mix is ​​skin-friendly and breathable thanks to the cotton, but stays in good shape and dries faster thanks to the addition of synthetic fibers.
Foam and wood: varied alternatives
Bath mats made of wood or bamboo are particularly hygienic because germs are less likely to settle on wooden surfaces. Such models can also be easily vacuumed and wiped dry after showering. While foam bathmats are soft, they are not as fluffy, and they give comfortably when you step on them. They can also be vacuumed off easily, hardly absorb any moisture and are often designed with attractive photo prints. 
Colourful, subtle, natural: which design suits your bathroom?
A bath mat that matches the furnishings in your bathroom and the colors of the tiles decorates your bathroom and makes it look homely. Here are a few tips on how to choose the right bathmat for you.
Natural-looking bath mats for the country house style of living
Country-style bathrooms are characterized by warm, rich colors and lots of wood. You can also choose a mirror cabinet made of wood, either natural or painted in antique white. Complement the rustic character of country house furniture with red, orange, beige or sand-colored bathroom rugs made from natural-looking cotton. The whole thing appears particularly harmonious if the selected color is also reflected in your towels .
Subtle décor for modern bathrooms
Modern bathrooms are characterized by clear lines and angular or unusually designed bathroom fittings. Cool, reserved tones such as grey, white or black look elegant and classy in such bathrooms. Bath mats with a low pile and design elements such as graphic patterns, subtle color gradients or abstract shapes round off the modern ambience. Alternatively, you can accentuate certain areas with bathroom rugs in bold fashion colors. Models in a raspberry tone or in petrol go well with it.
Tip: Bathroom accessories such as a stainless steel toilet set underline the linear design of modern bathrooms, while spotlights or LED wall lights can provide pleasant indirect and selective lighting.
Classic bathrooms rely on vibrant colors
Classic bathrooms are usually kept in white, while colors emphasize certain areas. So two-tone furniture is suitable to make the room a little fresher. With bathroom mats in bright colors, it is important that they do not appear too busy. Therefore, rely on mats with even patterns such as stripes or dots. The colorful models look even better in small bathrooms if you use them discreetly and individually.
Tip: create structure with a bath mat set and create a homely atmosphere. In addition, with a set you can easily go from mat to mat without having to step on the cold tiles. 
Care tips for bath mats: how to keep them soft and clean
With proper care, the surfaces of bath mats remain beautifully soft for a long time. Many models have a non-slip underside, which you should pay special attention to when cleaning. Please also note the manufacturer's instructions and the following tips.
As a rule, you can clean bath mats made of cotton or synthetic fibers in the washing machine at 60 degrees. Runners made of synthetic materials should be cleaned on a gentle cycle with a mild or color detergent.
You should wash models with a non-slip underside at a maximum of 30 degrees because of the rubber coating.
You can clean high-pile mats, which are prone to lint, in a pillowcases that the lint does not get into the rest of the laundry.
You can put many models in the dryer. However, it is gentler to spread them out on a drying rack and dry them in the fresh air.
Always wash all the pieces in a bath mat set together to keep the colors of the same intensity. 
We ship to Lahore Karachi Islamabad Rawalpindi, Faisalabad, Multan, Gujranwala, Gujrat, Sialkot, Sahiwal, Bahawalpur. and all other cities of Pakistan..
Conclusion: Soft and warm pads for bare feet
Bath mats offer your bare and wet feet a soft and warm base after a relaxing bath or a refreshing shower. Cleverly used, the diversely designed models also add color to your bathroom. Here you will find the important information summarized again:
In large bathrooms, bath mat sets allow you to comfortably go from mat to mat with bare feet.
In small bathrooms, you can use individual mats in front of the sink and in front of the shower to ensure that you don't get cold feet.
If you have underfloor heating in your bathroom, the rubber coating on the underside should be suitable for this.
Models made of cotton can absorb a lot of moisture, with synthetic fibers it stays on the surface and the mats dry quickly. Mixed fabrics combine the advantages of both materials, and wooden bath mats are particularly hygienic.
Cotton mats in red, orange, beige or sand tones are good for country-style bathrooms. Models with a low pile, graphic patterns or subtle color gradients go well with a modern bathroom, and you can decorate classic bathrooms with colorful and patterned mats.