HOW TO DECOR YOUR BED ROOM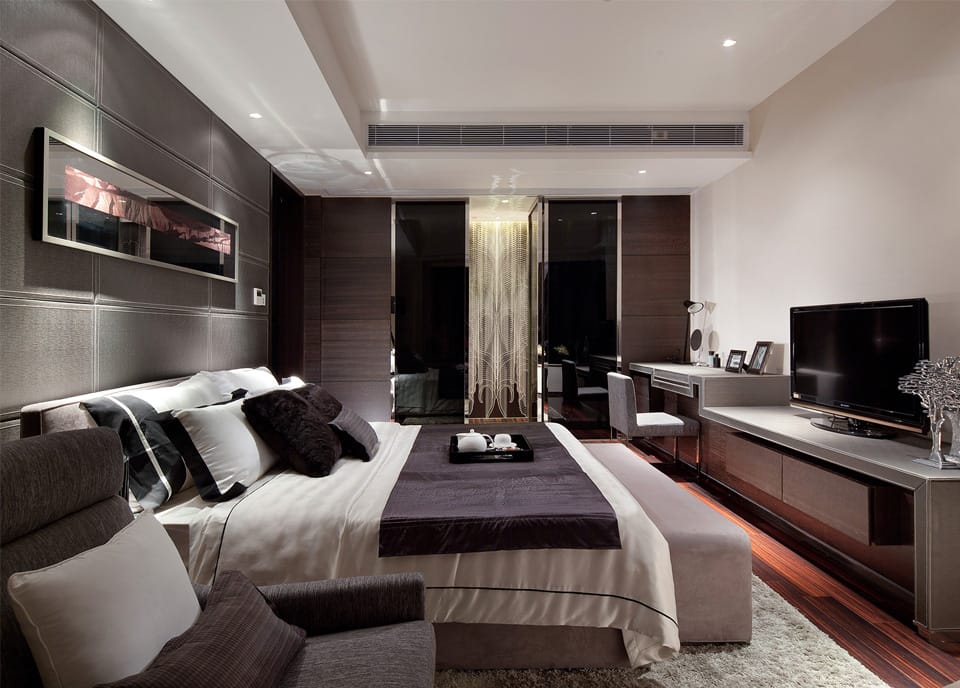 Bed room decor in Pakistan buying guide
After you completely redecorated your bedroom a few weeks ago, the room has already changed a lot. The new pieces of furniture are in their place and the fresh paint shines on the walls. With the right bedroom decoration , the room can be designed individually and according to your taste. A simple chest of drawers is upgraded with decorative bowls and round pillar candles in pretty candle holders provide atmospheric lighting. This buying guide will tell you what options you have for bedroom design.
For a nice atmosphere: That's what bedroom decoration is all about
Decoration serves to create and transport different room moods. Ultimately, it is exactly what makes your home individual and distinctive . It is particularly important in the bedroom that you feel comfortable. After all, the place to relax and switch off is there.
For a beautiful ambience, you can set eye-catchers and splashes of color with the right bedroom decoration. At the same time, decoration can transport feelings. A nice souvenir from vacation or a gift from your loved one will surely find a decorative place and bring back memories of great moments. Such accessories liven up a room and express your personality. However, the principle less is more applies! 
Decoration for the bedroom: these options are available
In addition to furniture, walls can also be designed decoratively. A very individual look is created with bowls, candles, pictures or wallpaper. Plants and seasonal decorative items also find their place here. In the following you will get a small overview of the different possibilities of bedroom decoration.
On the wall: pictures, mirrors and wallpaper
For a harmonious bedroom decoration, you can set specific accents on the walls. If these are simply painted white, you have the opportunity to conjure up interesting splashes of color with colorful wallpaper . Great are photo wallpapers, which can depict a realistic picture of a beach landscape or a forest scenery due to their impressive size. If you prefer to conjure up little eye-catchers, only cover part of the wall with plain-colored wallpaper. Pictures have a similarly decorative effect . Although they are smaller, the selection of motifs is all the greater. Multi-part variants bring a room to life. Words of wisdom or inspirational sayings can be conveyed with wall tattoos realize. With the help of decorative mirrors, the room looks more open and you can also check your outfit.
For the green thumb: plants, pots and vases
Plants and flowers bring freshness to the bedroom. They liven up bare corners and attract attention. In colorful pots , green plants on the windowsill are also eye-catchers. In addition, plants ensure better air quality and a pleasant room climate in which you can sleep wonderfully. Gerberas draped in vases look elegant on a dressing table and look great against light-colored furniture. If you don't have a green thumb, you can alternatively use artificial plants . Just like real plants, they make a room more homely.
To place: candles, bowls and baskets
Baskets for storing books and magazines are decorative and practical at the same time. Jewelry and other objects can be arranged in small decorative bowls and on decorative trays. Picture frames with photos of your loved ones come into their own on chests of drawers and keep memories of shared experiences alive. With candle holders and matching candles, you can create a romantic bedroom atmosphere in no time at all.
Seasonal Décor: Seasons and Holidays
A bedroom can also be wonderfully decorated to match the season or holidays. A chain of lights attached to the window frame at Christmas provides atmospheric light, and festive decorative elements in the shape of stars or with Christmas motifs also look wonderfully harmonious in winter. A fluffy bedspread on the bed keeps you nice and warm and invites you to cozy evenings. Decorate your bedroom with soft pastel colors in spring and beautiful decorative elements inspired by nature in autumn. For example, you can fill decorative bowls with pine cones and chestnuts. 
Ten decorating ideas: How to beautify your bedroom
Bedroom decoration not only has decorative properties, it can also make small rooms appear larger and large rooms more comfortable. Here are a few tips and ideas for beautifying your bedroom.
Small rooms should not be overloaded with too many decorative elements, this can appear chaotic. Small islands with accessories are better .
Set thematic priorities and give your decoration a main theme.
For a visual increase in space, you can use mirrors that reflect the light. A photo wallpaper can also be used.
Dark wall colors give a room more depth and appear warm and cozy. Light colors, on the other hand, make the room appear larger.
In small rooms, you should use decorative elements that match the color of the furniture and walls. In this way you complement the play of colors harmoniously.
A few large pictures on the wall appear calmer than many small works of art.
You can divide large wall surfaces into areas with wall paint. This makes the wall appear less solid.
Several indirect light sources visually increase the space.
Wallpapers with horizontal stripes stretch the room, vertical patterns lengthen it.
If you don't have the space for floor lamps, choose space-saving wall lamps. 
Matching bedroom decoration for your living style
With harmonious decorative elements you underline your personal furnishing style and ensure a homely overall impression. Here you will find a few inspiring ideas on how to decorate your sleeping area in a country house style, modern or oriental.
Country home style
The country house living style lives from nature and is characterized by its color palette and materials. You underline the rural-romantic flair with white picture frames with filigree decorations. Photos of your loved ones come into their own on a solid country house chest of drawers. Likewise, pots made of tin or copper can be arranged appropriately on the windowsill . Rattan or wooden baskets underline the rustic look and can be placed next to the bed to store books and magazines.
Modern living style
Cool elegance and restraint - that characterizes the modern style of living. In the bedroom, this can be emphasized with decorative elements in a stainless steel look. You can present silver-colored candlesticks with long white candles wonderfully on a sideboard. Behind it, a rectangular mirror provides delicate lighting effects by reflecting the candlelight. Place an expansive glass picture with elegant black and white graphics behind the box spring bed. As a small color highlight, you can paint one side of the wall in a dark anthracite tone. This emphasizes the elegant character of the room.
Oriental living style
The oriental furnishing style is characterized above all by warm and rich colors such as red, blue or green and ornate patterns. You can also implement this color palette with decorative cushions that you distribute on the high bed. A pouf with bobbles looks good next to the bed and also offers storage space. Decorate your walls with brass lamps or dangling lanterns with a colorful mosaic pattern from the ceiling, which will bathe your bedroom in a dim light. Bulbous vases and tea lights on the bedside table underline the exotic character. 
Conclusion: Bedroom decoration creates a beautiful ambience
In combination with the other bedroom furniture, a harmonious overall picture can be created with matching accessories, so that you enjoy spending time in your sleeping area. You can find more information about the decorative elements in the bedroom here:
Colorful wall paintings and patterned wallpaper bring color to empty bedroom walls. Depending on the motif, pictures achieve a special effect.
Bare rooms appear lively and fresh through the use of plants. Plants also improve the air quality and transform the bedroom into a homely oasis of calm.
On chests of drawers and shelves you can set beautiful accents with bowls, baskets or decorative figures. Tealights and candles create an atmospheric light and lots of little things can be stored in baskets.
Mirrors, light elements, bright colors and photo wallpaper provide optical magnification. In large rooms, you should arrange the decorative elements into small islands that give the room more structure.
Fabrics with floral patterns and decoration in a rustic wood design go well with the country house style of living, while the bedroom can be furnished in a modern way with shiny metal. It gets oriental with bulbous vases, colorful cushions and brass lamps.
We ship to Lahore Karachi Islamabad Rawalpindi, Faisalabad, Multan, Gujranwala, Gujrat, Sialkot, Sahiwal, Bahawalpur. and all other cities of Pakistan.