WHICH TYPE OF COFFEE TABLE IS BEST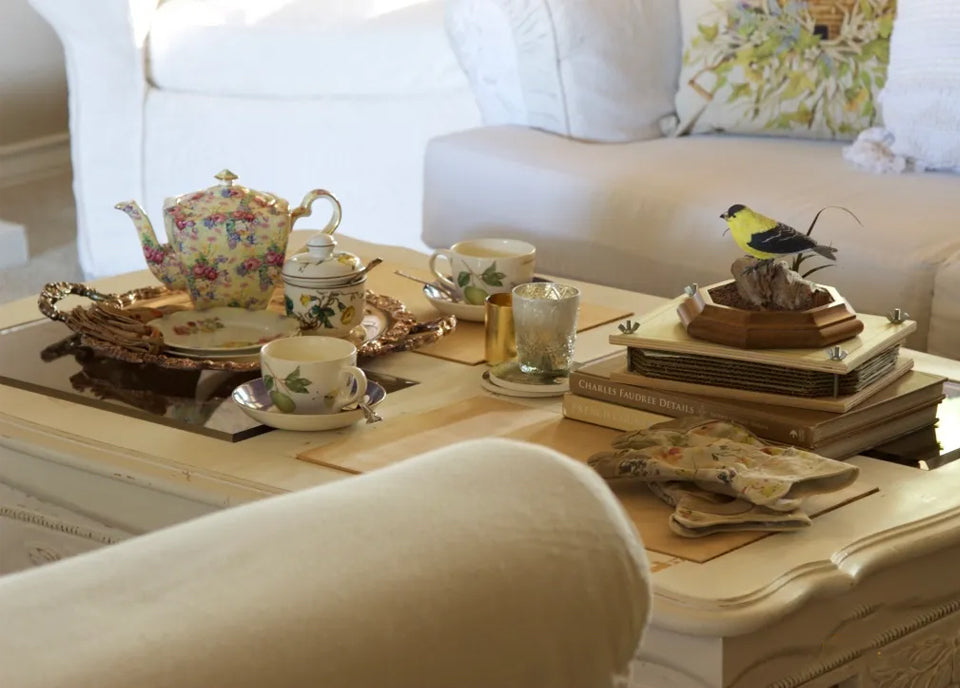 Coffee tables online shopping in Pakistan buying guide
How nice it is to simply do nothing and put your feet up in a relaxed manner. What better place to do that than on the couch at home? Your favorite TV show is about to start. Everything is ready for a cozy evening on the sofa. On the coffee table are a bowl of chocolates and a bag of chips. Everything is within easy reach by hand, so there is no need to get up again. How convenient! Find out here why the coffee table is an indispensable piece of furniture in the living room.
Practical tables at a low height: that's what coffee tables are all about
To make your living room cozy, you need a coffee table in addition to an armchair and a sofa. Here you can put down the coffee cup, stack your favorite magazines and arrange vases with fresh flowers. Since the tables are usually held at a similar height to the seats, they allow a clear view of the upholstery and are visually restrained.
Integrated drawers and compartments offer plenty of storage space , and game collections or illustrated books can be stored on a second level under the table surface. 
Ready to move in: overview of models and materials
Coffee tables differ from each other in size, shape and material. Different materials create an interesting mix, for example when the table top and table legs are made of different materials. You can find out more about the different variants here.
Glass coffee tables
It stands in the room, but doesn't appear dominant: a glass coffee table. He owes this effect to the transparent plate. It radiates lightness and makes the living room appear larger and brighter. Since the plates are made of hardened clear, frosted or colored glass, scratches are rather rare. Glass tables are robust and easy to care for. Dust, stains, fingerprints or rims from stored glasses are easily removed with a microfiber or cotton cloth and a little water without leaving permanent stains.
Solid wood coffee tables
Wooden coffee tables radiate warmth and comfort. A distinction is made between tables made of solid wood such as oak, beech, pine or sheesham. Solid woods are usually very durable, the durability varies depending on the type of wood. Hard beech wood is less sensitive than soft pine wood. The tables can be untreated, varnished or oiled. Lacquered surfaces are less sensitive than untreated wood, you can simply remove dust with a dry cloth and dirt with a damp cloth.
Wooden coffee tables
Coffee tables made from MDF (medium-density fiberboard), a popular wood material for furniture, are less expensive than solid wood tables. MDF consists of small wood fibers that are pressed and glued into boards. They are usually painted or foiled, for example in a high-gloss finish. The result is a smooth and scratch-resistant surface. To clean the tables, you can simply wipe them down with a damp cloth.
Metal coffee tables
Metal coffee tables (stainless steel, aluminum or cast iron) give the living room a cool charm. This impression can be weakened if the metal is combined with wood or plastic. Metal tables are very robust, stable and durable. They are also very easy to care for and can be easily cleaned with a damp cloth.
Fiberglass coffee tables
The great advantage of fiberglass is that this plastic can be molded into any shape, so tables can be made in different and unusual designs. Popular colors are black or white. The glass fiber plastic is also robust and unbreakable. In contrast to conventional plastic, fiberglass does not fade as quickly in the sun. It is also very easy to care for and can simply be cleaned with a damp cloth and a mild household cleaner. 
What shape and height should your coffee table have?
So that your new coffee table fits into your living concept, you can think about a few things beforehand: How high should the table be and do you prefer round, square or oval shapes? The following points can help you with your decision.
Table height: Deep tables allow an unobstructed view
If your new coffee table is to serve as storage space, models that are based on the seat height of the sofa are good. The tables don't look too bulky and are in line with the upholstery. Higher tables are good for afternoon coffee as you don't have to bend down too far. With height-adjustable tables you are flexible and can adapt the table height to different situations.
Table shape: with and without corners
Round tables have a communicative and homely effect. They look particularly good as a set, for example when you combine two or three round tables of different heights . Angular variants appear structured and orderly and can also be placed near the wall or next to the sofa.
Storage Space: Plenty of space for storage
Coffee tables can be kept simple, i.e. with only a table top and legs, or equipped with additional storage space. Some models have another open shelf of the same size under the tabletop that is accessible from all sides. Also popular are tables with drawers, as well as open compartments for blankets and magazines. If you need extra storage space, chest coffee tables might be right for you. 
Which living style suits you?
Your new coffee table should not only look good, but of course it should also match your living room furnishings. Here are three examples of how you can combine the tables into different styles.
The modern style of living: Glass looks elegant and stylish
The modern style is characterized by straight shapes and simple elegance. A dark leather sofa sits on a silver-grey carpet , with a subtle picture hanging above it on a white wall. This corner of the living room is completed by a square glass table, which stands on four filigree, white lacquered wooden legs.
The Scandinavian living style: simple ambience
The Scandinavian style of living combines cosiness with minimalist furnishings. How to decorate several cushions with geometric patterns on a large, dark blue couch. Next to it is a mint-colored pouf in a chunky knit look that has the latest magazines ready. The Scandinavian-style living ambience is complemented by a coffee table with an oval, white tabletop on four filigree wooden legs.
The country house style: wood looks cozy
The romantic atmosphere of the country house style is underscored by the centerpiece of the living room: a beige sofa set with lots of floral patterned cushions arranged on it. A light coffee table with a square wooden top or a chest that offers plenty of storage space goes well with the cozy flair of the country house style . Light, airy, cream-colored curtains complete this style. 
The right place: How to set up your coffee table
Sometimes it takes a little time to find the right place for the coffee table. Instead of simply placing it in front of the sofa, it is more exciting if you align it to one side of the sofa or place it to the side of it, for example. This makes the sofa and armchair easier to access and you can see more of them.
To put the coffee table in the limelight, you can decorate it. With pretty decorative bowls, a table vase with fresh flowers or twigs and candle holders, your living room will look nice and cozy. 
Wipe and wipe away: This is how you clean your coffee table
There are always stains, even on a coffee table. So that it stays beautiful for a long time, you should treat it to a little care treatment from time to time.
Clean wooden tables
You can remove dust and deposits from untreated and therefore porous wooden tables with a soft cotton cloth. You can also use a damp cloth at regular intervals to remove deep-seated dirt. Important: immediately remove fresh stains, including water stains, and treat the area. Untreated wood looks forward to being treated with the right furniture care every few years.
Tip: With lacquered wood, the surface is sealed and the wood is protected. Wipe the table with a damp cloth and dry it afterwards so that there are no streaks on the lacquer.
Plastic, metal and glass tables
Metal, glass and plastic are robust, but scratches can also occur here under certain circumstances. Therefore, always use a soft cloth, such as cotton, and only use mild all-purpose cleaners that do not damage the surfaces. It is important to always wipe with a dry cloth so that no edges form.
Tip: You are on the safe side with coasters and placemats. 
Conclusion: The low tables provide living flair
When buying a coffee table, you should consider your personal taste and style of living. It is just as important to determine which function the piece of furniture should primarily take on and how much space you want to give it in the living room. Here are some helpful tips to help you make your purchasing decision:
What do you mainly want to use the table for? If it is only to be used as a shelf, a small model with a simple plate is sufficient. If it is to offer storage space, additional compartments or drawers are an advantage. With a height-adjustable table you are flexible and can also use it for drinking coffee with friends.
You want an eye-catcher in the living room? Then material mixes such as glass and metal or tables made of fiberglass are interesting.
Do you prefer a round or a square table? While round models radiate more coziness, square tables appear more linear and are also suitable for small rooms.
The right table underlines the style of living. If you have modern furnishings, a glass table is recommended. If, on the other hand, you prefer the country house style, a light coffee table with a wooden top or a chest coffee table that offers additional storage space is suitable. An oval coffee table with a white table top and filigree wooden legs suits the Scandinavian style.