HOW TO BUY A BOX SPRING BED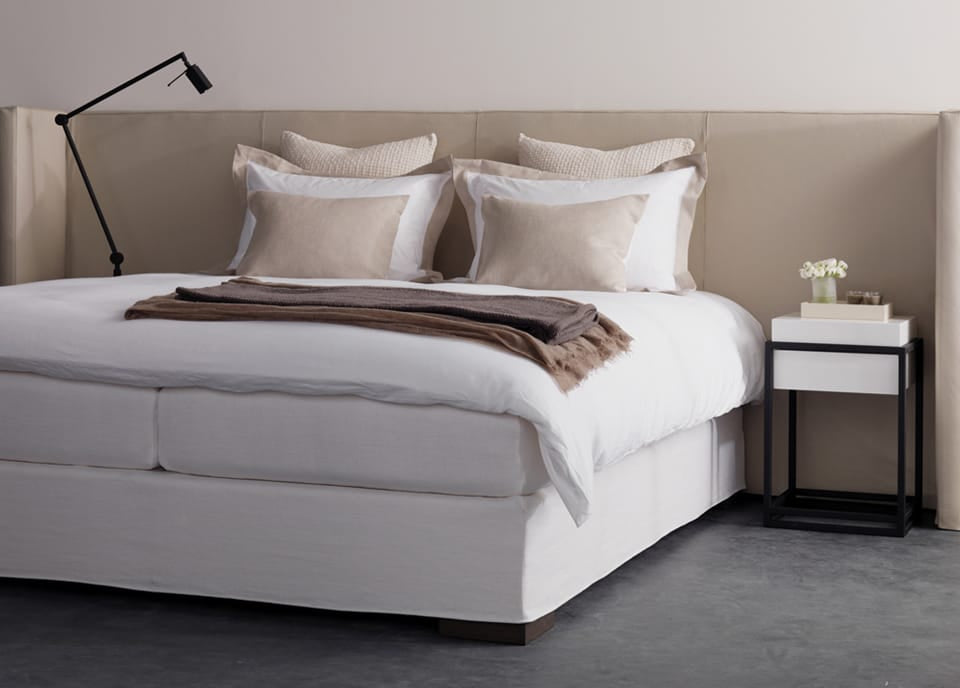 Box spring bed online shopping in Pakistan buying guide
Your bedroom is unrecognizable: you threw out the old furniture and gave the walls a fresh coat of paint and in the middle of the room there is now your new box spring bed that you have been looking forward to for so long. Too bad it's only afternoon because you can't wait to get under the covers and test out your new mattress. Find out here what makes the beds with the thick mattresses so special:
Several mattresses, more comfort: that is what makes box spring beds so special
The special thing about box spring beds is their suspension, because instead of a slatted frame and a mattress, several layers of upholstery are stacked on top of each other. This creates a comfortable base that is also pleasantly high: the seat height of box spring beds is usually between 50 and 70 cm. For example, if you suffer from back pain or have restricted mobility, a box spring bed makes it easier to get in and out.
The structure of a box spring bed looks like this: The slatted frame is replaced by the eponymous "box spring", a substructure made of a solid wooden frame into which a spring core system is incorporated. The actual mattress, which is also filled with springs or a pocket spring core, lies above this upholstered base. With a double bed you can also choose two different mattresses with different degrees of hardness.
The end is a thin topper, which covers the gap between visitors and two single mattresses. The topper is nice and soft, while the mattress and box spring support you while you sleep and ensure a comfortable position. Breathable materials dissipate moisture well and the fabric-covered side and headboards give the bed a modern look.
Box spring beds are available in different sizes, starting with a single bed measuring 90 x 200 cm, through medium-sized models measuring 140 x 200 cm to beds measuring 200 x 220 cm.
Subframe or pocket spring core? The differences
If you decide on a box spring bed, you can choose between different bases. Here you can find out what makes the individual variants different.
spring core
Inside the base there are waist-shaped springs that are connected to each other by narrow wires over the entire lying surface. If pressure is exerted on the surface, it gives way elastically and your body sinks evenly.
If you weigh less than 100 kg and like to lie a little softer, a base with a spring core is the right choice for you.
pocket spring core
With a pocket spring core filling, the individual springs are incorporated into pockets. In contrast to the spring core, however, the pockets are not connected to one another and therefore give way selectively under pressure. The mattress adapts to the body and the areas of different weight individually.
If you like to lie a little more firmly or have a body weight of around 100 kg or more, then a subframe with a pocket spring core is a sensible investment.
barrel spring core
The barrel spring core is another variant of the pocket spring core. The springs are narrower at the top and bottom than in the middle, which results in even greater strength. The more pressure is exerted on the springs, the higher the resistance, which enables a particularly high level of adaptability to your body.
Barrel spring cores are often used in high-priced box spring beds and form a solid and stable base.
Which mattress should it be? That is to be noted
When you decide on a new bed, you can also take a close look at your sleeping arrangements - do you still like to lie softly or should the new mattress be a little firmer? Here you will find information about the various top mattresses.
Degrees of hardness: from H1 to H5
With a box spring bed, the box spring mattress should have the degree of firmness that suits your body weight. In this way you ensure that your body is not too hard or too soft at night, but is in an ergonomically comfortable position. Ideally, the natural S-shape of the spine is supported and cushioned.
You should also consider whether you are a stomach, side or back sleeper. If you lie on your side, your hips and upper body will sink more into the mattress, and a softer mattress will offer you more comfort. If you and your partner have very different body weights or different sleeping habits, you should choose two separate mattresses instead of one. You can tailor these to your specific needs.
The degrees of hardness can vary from manufacturer to manufacturer, but a rough classification according to body weight is as follows:
H1:up to 65 kg
H2:up to 80 kg
H3:81 to 100 kg
H4:101 to 120 kg
H5:121 to 160 kg
Tip: If the model allows it, you should rotate and turn your mattress regularly so that it is evenly used and no dents or pits form. You should pay particular attention to this with innerspring mattresses.
Lying zones: from 3 to 7 zones
So that your body gets support exactly where it needs it when lying down, many mattresses are divided into specific lying zones, which give in to different degrees of pressure. 3-zone mattresses are slightly softer in the shoulder, lumbar and pelvic areas and thus support the natural S-shape of the spine - even if you sleep on your side.
5-zone mattresses stabilize your head and neck area as well as your thighs and feet further down, while your shoulders and pelvis sink comfortably. The lumbar area also gives in softly, so that you lie comfortably even when lying on your stomach.
Cold foam mattresses and innerspring mattresses are also available with orthopedic 7-zone padding that adapts to your body from head to toe and distributes your weight evenly. Since the point-elastic areas are usually constructed in a mirror-inverted manner, you can also turn mattresses with seven lying zones without any change in the support force.
Lower and upper mattress: What goes together?
A base made of a spring core and a box spring mattress with a pocket spring core can be easily combined with each other and result in a balanced sleeping system. This combination is chosen particularly often. You can also use a top mattress made of cold foam, but the springy feeling of the box spring bed is quickly lost with this variant. However, if you get cold quickly at night, a cold foam mattress is a good heat store and ensures pleasant nights.
The more springs are incorporated into a mattress, the better it cushions the body. Standard models have around 300 feathers, but more luxurious ones have a feather density of 500 feathers per square meter or more. Different lying zones create good support. In the hip and back area, for example, more springs are often used than in the foot or head section.
Topper: the icing on the cake of the box spring bed
A topper is about 4 to 10 cm thick and forms the upper end of the box spring bed. It is hygienic with removable and washable covers and forms a soft and comfortable pad. With double beds, a continuous topper ensures that the gap between two mattresses is covered. You can choose between different materials for the filling.
visco foam
Viscose foam is also known as "memory foam". The thermo-active fabric adapts to the contours of the body when it is warm. When the pressure is released, the foam slowly returns to its original shape.
cold foam
Cold foam is a slightly harder material that heats up quickly and provides a pleasantly firm base for back sleepers.
latex
A particularly soft material is latex. The thicker the topper, the more the body sinks into the pad. Latex is a good choice for side sleepers, as well as for allergy sufferers, because mites have almost no chance of settling in the material. However, if you tend to sweat at night, you should better use a different mattress, because latex does not absorb as much liquid as innerspring or foam mattresses.
Tip: Fitted sheets for topper are available in many different sizes.
Box spring beds with special features: these extras are available
As with a conventional bed, you can also choose between different features for box spring beds.
Motorized box spring bed: moveable head and foot sections
If you like it particularly comfortable, you can use a box spring bed with a motor , where you can adjust the head and foot sections to different heights at the push of a button. For example, if you like to read in bed, a raised headboard offers you a comfortable support in the back.
Tip: In the event of a power failure, the mattress on a motorized bed can also be returned to the starting position manually.
Box spring bed with storage box: invisible storage space
Storage space is always practical, and if the space under the bed can also be used, it doesn't even take up additional floor space. In the case of box spring beds with a bed box, the mattress can either be lifted at the foot end or from the side and the bed box offers plenty of space to store more duvets or your sports equipment. This also allows for good air circulation under the mattress.
Box spring bed with lighting: LEDs create a mood
Built-in LED spotlights, which illuminate your box spring bed and are a great alternative to the bedside lamp , ensure atmospheric hours. Narrow bands of light appear particularly modern.
Tip: The book is so exciting that you forget everything around you? Don't worry, LED lights don't generate heat, so you can fall asleep with peace of mind even when the lights are still on.
Beautiful in the bedroom: these beds match your style of living
Box spring beds are usually covered all around with fabric, leather or imitation leather. The selection is correspondingly large. Here are three examples of how you can combine different models to create different living styles.
The modern style: simple and straightforward
If you are a fan of clear shapes and colors, your bedroom is definitely furnished in a modern style. A box spring bed with an imitation leather cover in anthracite and integrated LED strips goes well with this. To complete the look, there is a modern rug with a graphic pattern on the floor and the walls are painted in a light gray.
The classic style: elegant design
You don't follow any trends when it comes to furnishing your home, but prefer timeless and elegant pieces? Then you will definitely like a box spring bed with button stitching . Together with a comfortable bed bench and opaque curtains and drapes, you create a cozy atmosphere.
The country house style: cozy and natural
You are attracted to bright colors and natural materials. Your box spring bed is therefore covered with cotton fabric and you rely on robust linen for the bed linen. A vase of fresh flowers is a must on a simple light wood bedside table .
With these tips, your box spring bed will stay beautiful for a long time
You should feel completely comfortable in your bed. To ensure that this is the case, here are some tips on how to care for your box spring bed and what you can do to ensure a good sleeping climate.
When you get up, shake out the sheets and pull back the covers. This also refreshes the mattress.
Air the bedroom several times a day, but at least after getting up and once in the evening. This brings fresh oxygen into the room and promotes sleep.
Box spring beds with fabric covers can be cleaned with a vacuum cleaner and an upholstery brush. Set the vacuum cleaner to the lowest level and slowly move down the side, head and foot sections. Faux leather covers can be made shiny again with a damp cloth and a little washing-up liquid.
If there are fresh stains on the mattress, immediately soak a cloth in cold water and wipe the stain from the outside in. You can find more tips on how to clean your mattress with home remedies here .
Wash covers and bedclothes regularly. You can usually find information on this on the manufacturer's care label.
We ship bed sheets to Lahore Karachi Islamabad Rawalpindi, Faisalabad, Multan, Gujranwala, Gujrat, Sialkot, Sahiwal, Bahawalpur. and all other cities of Pakistan..
Conclusion: box spring beds offer a lot of comfort
A box spring bed is wonderful: thick padding ensures a springy sleeping experience and there is a large selection of beautiful models. Here you will find important information from the text summarized again at a glance:
With box spring beds, there is no slatted frame and instead a spring-loaded base forms the basis. It usually consists of Bonnell or pocket springs. This is followed by a mattress and finally the topper.
You should choose the hardness of the mattress according to your body weight. The degrees of hardness range from H1 (rather soft) to H5 (very firm).
Mattresses with different lying zones support your body precisely and distribute your weight evenly. It is important for side sleepers that heavy body parts such as the shoulders and pelvis can sink into the bed. Stomach sleepers need a mattress with a soft lumbar area.
With the topper you can use latex, viscos and cold foam pads.
With motorized box spring beds, you can easily adjust the head and foot sections. A bed box creates extra storage space and integrated lighting provides atmospheric hours.