HOW TO BUY VELVET FLOOR CUSHIONS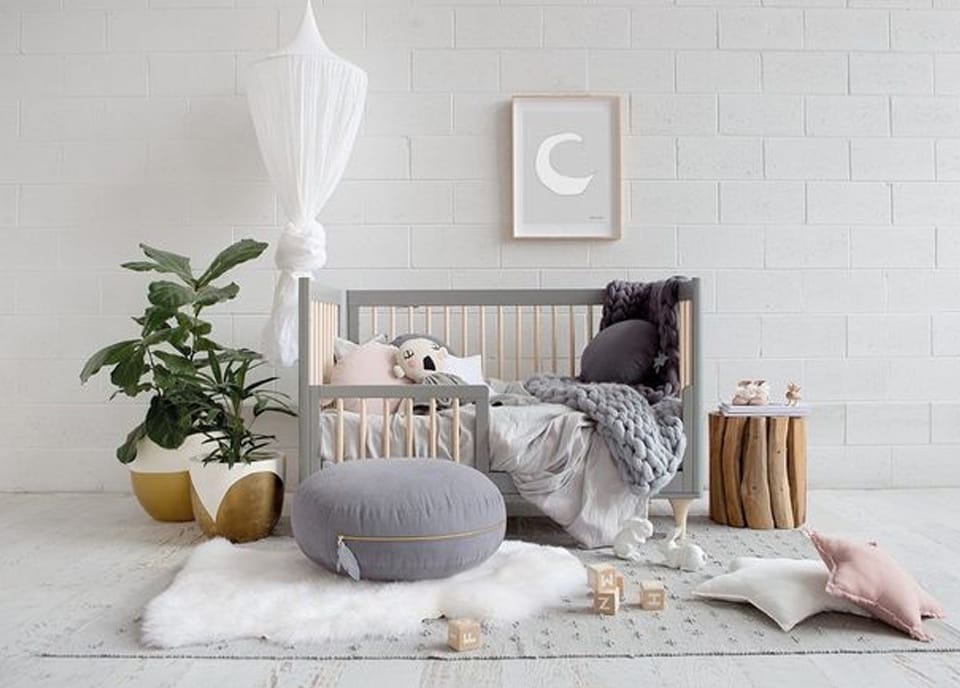 This afternoon you invited some friends over so you can plan your next vacation together. Together you make yourself comfortable in the living room. Since you only have a small couch, two of the guests will sit on your floor cushions & poufs . The colorful and oriental-inspired seat cushions will also inspire you, because suddenly Morocco is very popular with you and your friends for the summer. This guide shows you what makes poufs so special and which variants suit your style of living:
Floor Cushions & Poufs: comfortable alternatives to stools and chairs
Poufs belong to the velvet floor cushions and are a cozy alternative to simple stools. Typical of the round or square seating furniture, which is usually firmly lined, is its cover made of smooth or knitted textile materials, leather or artificial fur. In addition to sitting on them, you can also use the cushions as storage space or a side table. For this, however, the models should be stably padded and have a flat and straight surface.
Poufs are usually compact and light and can therefore be set up and used flexibly: as a seat for a coffee chat with a friend or as a comfortable footrest when you relax on the sofa in the evening.
Velvet floor cushions for your home: these models match your style of living
Would you like to beautify your home with a velvet floor cushion & pouf? Then you should choose a model that suits your style of living so that the interior looks harmonious and coherent. The following overview shows you three inspiring living ideas for your rooms.
Scandi style
Do you like the warm and simple Scandi style of living with its natural materials and clean look? A cream-colored pouf in a coarse knit look goes well with this. Place it decoratively next to a white couch with light wooden feet on a fluffy high-pile carpet. Here you can put your feet up after a long, tiring day at work and enjoy the evening.
Modern living style
Your home is furnished in a modern living style : with lots of high-gloss furniture and an expansive living area in anthracite. Liven up your interior with several poufs. A sturdy leather floor cushion , for example, fits well as a side table replacement next to the couch, and you can put your worn clothes on a faux fur model in the bedroom.
ethnic living style
The ethno living style is reminiscent of the Orient, of stories from the Arabian Nights and of exotic countries. Poufs with colorful mandala prints or with a cover with a batik pattern go well with this. Models with filigree, curved embroidery and tassels are just as beautiful. Drape cushions around a low, solid wood, dark brown coffee table decorated with carvings.
Soft and hard-wearing: matching covers for your pouf
Poufs are available with different upper materials - from particularly easy-care and breathable to soft and fluffy. Here you will find an overview of the different cover variants.
polyester
Poufs with a polyester cover are particularly easy to care for, hard-wearing and abrasion-resistant. With such cushions, you have the choice between different types of processing: the offer ranges from smooth covers to poufs with a soft velor look.
Care tip: Models with removable covers can usually be washed in the washing machine. Pay attention to the care instructions on the product label.
Cotton
Poufs with covers made of pure cotton are particularly breathable. Models with patterned textured fabrics, which can look oriental or modern depending on the design, and poufs with a coarse knit look are beautiful variants. These models look beautifully rustic in the living room or bedroom.
leather or imitation leather
Real leather feels pleasantly smooth and is durable. In addition, it develops a beautiful patina over time, which gives the cushion a distinctive look. Are you looking for a pouf with a very hard-wearing upper that can be easily wiped clean? Then choose a model with an easy-care imitation leather cover that is in no way inferior to the look of real leather.
Care tip: The leather cover retains its elegant shine for a long time if you treat it regularly with leather care products such as leather milk.
faux fur
Poufs with faux fur covers look very extravagant and luxurious. At the same time, they are very soft and feel pleasant on the skin. Faux fur also has the advantage that you can easily vacuum it off. Dust and crumbs don't stand a chance.
We ship to Lahore Karachi Islamabad Rawalpindi, Faisalabad, Multan, Gujranwala, Gujrat, Sialkot, Sahiwal, Bahawalpur. and all other cities of Pakistan..
Conclusion: floor cushions are seating and storage space in one
You can not only sit on low poufs - you can also use them as storage space. At the same time, you can put your feet on it after a hard day's work. In the following summary you will find the important information again:
Poufs in a cream-colored coarse knit look match the natural Scandinavian style of living, models made of leather or with faux fur can loosen up a modern look, and colorfully patterned floor cushions with tassels underline the exotic style.
Floor cushions made of polyester and imitation leather are easy to care for and hard-wearing, variants made of cotton are soft and rustically comfortable, and poufs made of leather and imitation fur have an unusual and extravagant look.