HOW TO CHOOSE A TABLE LAMP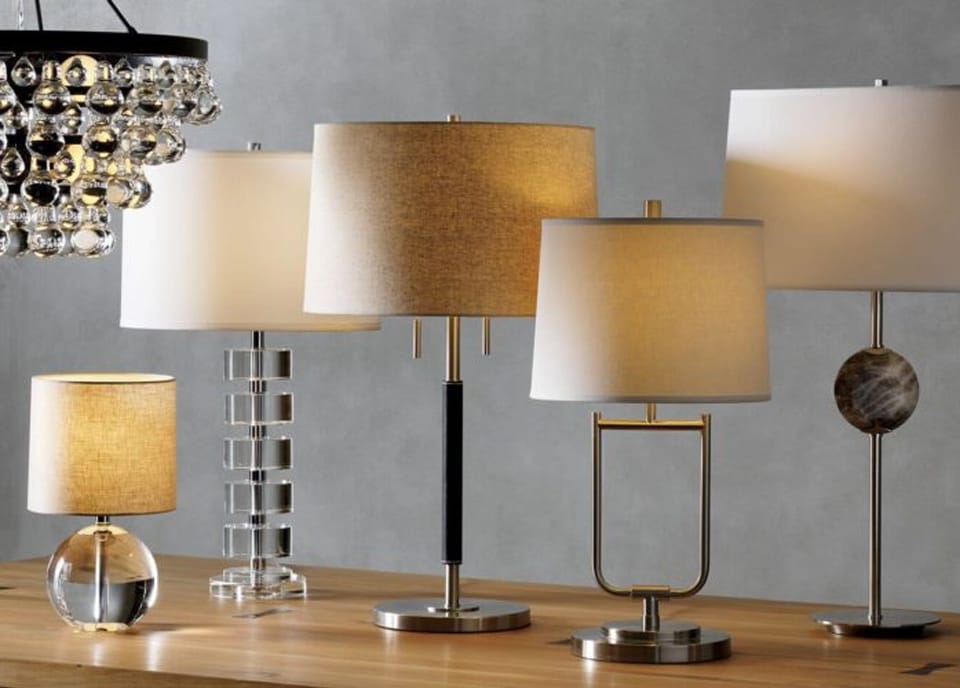 Table lamps online shopping in Pakistan buying guide
Table lamps fit on small and large table tops and provide the appropriate atmospheric lighting when eating, reading, watching TV or relaxing.
Which table lamps are there?
reading lamp
Reading lamps illuminate a narrow area - such as an armchair - with a bright cone of light that brightly illuminates the pages of books and magazines. Pivoting or movable models that allow the light cone to be freely positioned are useful here . In this way, a reading lamp can also serve decorative purposes. If you place the table lamp on a side table, for example, you can use the light to read a good book and at the same time create a passive light source that sets the interior in scene.
desk lamp
A desk lamp envelops your workplace in evenly bright light. It creates an atmosphere in which you can work in a concentrated manner without being irritated by annoying shadows from overhead lighting. Ideally, desk lamps swivel so you can direct the light to the exact area you want illuminated. Disturbing reflections - for example on the monitor - can be prevented.
bedside lamp
A bedside lamp provides a pleasant light next to your bed. Such models are designed to be very compact so that they also fit on small bedside tables . A surrounding lampshade dampens the light and ensures that you are not dazzled before falling asleep. Nevertheless, the light intensity is sufficient with an appropriate light source for browsing a book in the evening.
Deco table lamp
Table lamps that do not fit into the three categories described due to their size and design can be used universally as light sources and decorative elements in your home. Unusual designs draw attention, while different materials such as wood or metal allow you to match your personal style of living.
What should I look for in a lamp for the table?
power cord
Most table lamps are powered by a power cord. The length of the cable is between around 1.5 and 3 m and should bridge the distance between the desired installation location and the nearest socket. The color of the cable makes a significant contribution to the visual appearance: while conventional white cables can attract negative attention, insulation in the color of the lamp or inconspicuous shades of color blend harmoniously into the living environment.
battery operation
Cordless lamps with built-in rechargeable batteries are independent of a socket and can therefore be operated on request in the middle of the table top or outside at the garden table . After the charging process, which takes between 30 minutes and 8 hours, a table lamp without a cable provides light for around 5 to 72 hours, depending on the battery capacity and luminosity.
Socket or permanently installed illuminant
Most table lamps come with a pre-installed bulb that can be twisted out and replaced with a different bulb. This allows you to light up defective lamps again, adjust the light intensity and light color to your wishes or use a smart home light source. Models with permanently installed light sources such as LED circuit boards are often cheaper to buy, but do not allow for any adjustments and cannot be repaired yourself in the event of a defect.
Tip: With models with an E14 socket for "candle lights" with a narrow thread or the larger E27 socket for conventional "light bulbs" you have the largest selection of different replacement bulbs from all price ranges.
dimming function
You can use a dimmer to adjust the luminosity of the lamp to your needs - from subtle ambient lighting to strong reading or working light. The LED light source used must be marked as dimmable in order to enable stepless control of the light intensity.
brightness
If you are familiar with the luminosity of traditional filament light bulbs, you can determine the approximate brightness of an LED table lamp with the following rule of thumb: The wattage of an LED is on average around one tenth that of a conventional incandescent light bulb with approximately the same brightness. A 4-watt LED replaces a 40-watt light bulb.
Tip: Luminous intensity is measured in lumens (lm). Incandescent lamps generate between 10 and 20 lumens per watt (lm/W), while LEDs can achieve between 80 and 250 lm/W depending on their design.
light color
The supplied or permanently installed light sources are often referred to as warm white, neutral white or cold white. With a light temperature of 2,500 to 3,000 Kelvin (K), warm-white models provide warm light with a high proportion of red and yellow. Neutral white models range from 3,000 to 4,500K and contain roughly equal amounts of red and blue for very balanced pure white lighting. Cool white LEDs with more than 4,500 K emit a light that tends strongly towards the blue range, which comes closest to pure daylight.
Which table lamp suits my style of living?
Luminaires for modern facilities
Simple lights in stainless steel or black anodized metal go well with the modern style of living with its clear shapes and high-contrast color and material combinations . Lampshades made of glass or direct radiators without a shade fit harmoniously into a modern interior. The bulbs should be neutral to cool white.
Lamps for apartments in retro style
Depending on which era you have chosen for your vintage style of living or a classically furnished apartment , different lamp models are possible. The spectrum ranges from lamps with bulbous stands and expansive lampshades in muted colors for classic opulence to models with colorful Tiffany glass shades in Art Nouveau style from the turn of the last century to typical style elements from the 1950s to 1970s.
Country style lighting
The rustic equipment with country house furniture is perfectly complemented by lamps with stands or holders made of real wood and lampshades made of fabric in white, light beige or earth tones. Ceramic bases also harmonize well with this furnishing style. Warm white lamps ensure a cozy lighting atmosphere in a country house apartment.
We ship to Lahore Karachi Islamabad Rawalpindi, Faisalabad, Multan, Gujranwala, Gujrat, Sialkot, Sahiwal, Bahawalpur. and all other cities of Pakistan.