WHICH DINNING TABLE IS RIGHT FOR YOU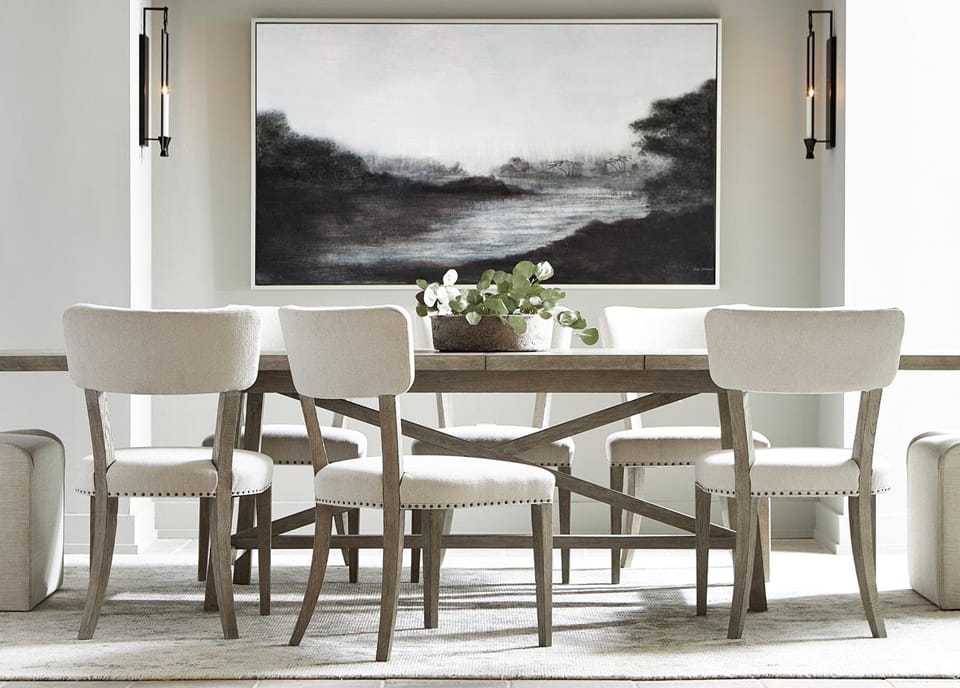 Dinning table online shopping in Pakistan buying guide
The whole family has gathered around the dining table to eat. And because you've done far too much again, you spontaneously invited the neighbors over. Your large dining table is quickly extended and also offers space for the new guests. When everyone in the house gathers in your dining room, the table there becomes the social center. So that you can find the table that suits your needs, we have put together important information about dining tables here.
The dining table is always in the middle
Like hardly any other piece of furniture, the dining table stands for community: for family gatherings and welcoming guests. In contrast to the coffee table or desk , it is neither a mere supporting actor nor tied to a specific use. Because although the food is in the name, you can also work, do handicrafts or play at your dining table .
Wooden and robust, stylishly made of glass or practical to fold out: the table that you invite your friends and relatives to becomes the focal point of your home. Reason enough, then, to take some time to choose your new piece of furniture. 
The different dining table models
Round, square, angular or extendable - each table has a different effect in the room and also fulfills different needs.
Rectangular dining tables: the long table
The classic among the dining tables has a rectangular tabletop with four legs. This shape exudes robustness and can be combined not only with chairs, but also with benches. You can place rectangular dining tables in the middle of the room or, for example, against the wall if there is not enough space. They can be easily integrated into different room concepts.
The size of rectangular dining tables ranges from small models for a maximum of four people to large, long tables that can accommodate up to ten people. Because the guests sit close together due to the rectangular shape and can also hold conversations across the laid table, even large tables still have a communicative effect. 
A special form of the rectangular dining room tables are side tables: instead of legs, they have a wide base frame on the narrow sides of the table top. This makes them look even more solid. Another variant are runners, i.e. U-shaped table legs. This leg shape also appears solid and robust.
Square dining tables: space-saving for small spaces
With its four edges of equal length, which usually offer space for a chair each, a square dining table fits well in small kitchens. It can be placed with one side against a wall or with two sides in a corner of the room, making good use of the space. Even small single kitchens with a square dining table don't look overcrowded.
Round dining tables: everything in view
A large , round dining table looks great in a spacious dining room, while a small bistro table for two is also suitable for smaller kitchens. All round tables - there are round tables with a pedestal or with legs - have the advantage that you can easily look at everyone without having to bend forward or backward. Round tables are therefore well suited for social gatherings.
The highlight of some round models: the rounding can be folded down on one side. This creates a straight side that you can even place flush against the wall, saving space if you don't need the entire table.
Extendable dining tables: practical and versatile
There are only four of you in everyday life, but all your relatives like to get together on public holidays? No problem, because your pull- out table can be extended in just a few simple steps. Optionally, you can pull out an additional extension or extension leaf on the shorter sides of the table or in the middle of the table: This turns a four-person table into a long table (round models become oval when pulled out). You can return your dining table to its original size just as quickly the next day.
Tip: If you want to avoid guests getting in the way of table legs when the table is extended, use a pedestal table . If you need a lot of storage space (for cutlery or napkins), look for a dining table with drawers. 
Wood, glass, metal: the materials in comparison
Not only the shape makes your dining room table, the material also influences its effect. Wood, glass and metal have different advantages.
Wood: natural and rustic
The material wood with its durable and naturally grained surface looks warm and exudes cosiness. The color of the raw material varies from light pine to dark walnut. You can also choose between rather soft wood (birch, spruce) and harder types (oak, beech). A treatment with oil, wax or varnish makes the material more resistant. The longer you have your wooden dining table, the more individual charm it will gain.
Wood-based material: beautiful and easy to care for
Wood-based material is cheaper and easier to care for, but very similar to wood as its model. The material , pressed from wood fibers , can be given an elegant shine with a high-gloss finish. There are no natural bumps or knotholes, and you also have a large selection of inexpensive dining tables made of different wood decors.
Glass: a touch of elegance
The tabletop of a glass dining table almost always appears light because it is transparent. Even a large table doesn't look bulky thanks to the transparent table top. A special treatment makes glass dining tables stable and scratch-resistant. You can choose from see-through clear glass, frosted glass that offers more structure, and glass plates with modern prints.
Metal: a sturdy frame
Metals are very robust and can therefore provide a particularly stable frame for glass and wooden table tops. A metal frame forms a stylish contrast to a glass or wooden table top. With the material mix you set an accent in your apartment. 
This is how you find the dining table that suits you
Which dining room table is right for you depends on several aspects: how much space you have for the table, how many family members should sit at it regularly and what furnishing style the rest of your home is furnished in.
How big should your dining table be?
To correctly estimate the size of the table top, this rule of thumb helps: each person needs 40 cm deep and 60 cm wide to feel comfortable at the table. This corresponds to the common table size of 120 x 80 cm for a family of four. If there are often pots , bowls or table accessories on the table, you should add about 20 cm in width, otherwise it will quickly become cramped.
How high should your dining table be?
Most dining tables are between 70 and 80 cm high. Which dimensions you should choose depends on the height of your dining room chairs or dining room armchairs - and vice versa. The distance between the table top and the seat should be about 30 cm. If your seats have armrests, these should also fit under the table.
Tip: If you buy a multi-piece placemat or dining set , you can be sure that the chairs and table will match in size and style.
Which table fits in your room?
Another important factor when choosing your dining table is the size of the room in which it will stand. You have enough space if there is around 60 to 80 cm of free space around the outside of the table on each side.
For small and narrow rooms, square tables are better than round ones. They can be placed with one side against the wall, making better use of the space. Glass tables appear more filigree and lighter than solid wooden tables.
In a large dining room, a sturdy, square wooden table or a large round table can become the central element. If more than ten people come together regularly, you should opt for a square one, since discussions over a round table of this size are difficult. 
Which dining table suits your style of living?
With the central role that the dining table plays in your daily life, it should of course also match the look of the other furniture.
Wooden tables for country style dining rooms
Natural, inviting and warm - for your country-style dining room, only a wooden dining table comes into question. Solid pine tables look rustic and cozy at the same time. Curved table legs that are decorated with millings or carvings are typical for this furnishing style. You can also bring the idyll of country life into your home by adding a dining room bench to your table : the cozy seating area is complete.
Decoration tip: Light-colored placemats or table runners made of linen go well with the rural charm of your wooden dining table. You can decorate the center of the table with lanterns in white or natural colors and a few pretty twigs.
Extravagance for the modern style of living
You have several options for transferring the linear elegance and functionality of the modern living style to your dining table: A concrete-look pedestal dining table with a mix of different shades of gray fits into a puristic dining room. A material mix of a metal frame with an inserted glass plate is also appealing - your modern dining table scores with a simple design and gives the room lightness.
Decoration tip: With an accessory such as a colourful, unusually shaped vase , you can add a visual highlight to your puristic dining table.
Bright naturalness in the Scandinavian dining area
The Scandinavian style of living stands for freshness and modernity, but is always close to nature. The typical combination of wood and the color white can be easily implemented in the dining room: an extendable dining table with a top made of white veneer and an oak frame brings Scandinavian lightness into your home.
Decoration tip: Green plants go well with the light tones of your Scandinavian dining table. A ceramic vase and some candles create a beautiful eye-catcher.
The dining table in the vintage kitchen
Is your apartment furnished with a touch of nostalgia? Then a round dining table made of dark wood complements your dining room or kitchen. A rustic, clearly visible grain makes your table a piece of furniture with character. If, on the other hand, you want your dining room table to stand out, the vintage colors pink, turquoise or lilac are ideal. Here the table legs can be playful and elaborately designed in an antique look.
Decoration tip: Signs of use make up the vintage style. The dining table is therefore even prettier with vases or candlesticks made of tarnished metal or rough wooden boxes. 
Tips for cleaning and maintaining dining tables
Most dining tables are easy to care for, after all, the material should be able to withstand particularly high loads. In general, when cleaning your table, always follow the manufacturer's instructions and test a new cleaning product on an inconspicuous area before use.
Wood needs oil or wax
The right care for tables made of wood and derived timber products depends on the surface. You can clean waxed and oiled tabletops with a damp cloth every day. You should avoid strong stains, for example from coffee - these penetrate deeper layers of wood. If such a stain or a deeper scratch is there, the mishap can usually be removed with fine sandpaper (caution: always sand in the direction of the wood grain and then oil or wax!).
Lacquered wood surfaces are even easier to care for: the lacquer layer protects the wood from penetrating liquids and can also be cleaned everyday with washing-up liquid. To ensure that your dining table retains its shine for a long time, you should treat it to regular care with a suitable polish.
Glass is cleaned quickly
Once you've used your glass dining table for a while, you'll find that dust and fingerprints are inevitable. But that's not a problem, because the smooth glass plate is easy to clean. Almost everything can be removed with a damp cloth and glass cleaner. Polish your dining table with a chamois to eliminate streaks.
When buying, you should pay attention to a well-made and sealed surface , so that your dining table can also cope if the knife falls out of your hand while eating. You can repair light scratches yourself with polishing paste, and if there are deep scratches, you should get a professional. 
.
Conclusion: The right dining table for your home
So that you can find the dining table that is tailored exactly to your needs, here is an overview of important information.
Dining tables for small kitchens: Square tables make better use of space than round ones because they can be placed with one side against the wall. Glass tables look more filigree than solid wooden tables, which also makes them well suited as kitchen tables.
Dining tables for large dining rooms: Round dining tables need a lot of space and therefore really come into their own in spacious rooms. Rule of thumb: Each person needs an area of ​​60 x 40 cm to feel comfortable at the table.
The right size: calculate 40 cm in depth and 60 cm in depth per person. The table dimensions of 120 x 80 cm are therefore suitable for a family of four.
The right height: The height of the table must match the height of your chairs and vice versa, so choose both accordingly. The standard height for dining tables is between 70 and 80 cm.
Round or square: A round table has the advantage that everyone can see each other directly, a square dining room table can be pushed against the wall or in a corner to save space.
The right leg shape: pedestal tables have the advantage that they offer a lot of legroom. Side tables and dining tables with skid legs appear particularly solid and stable.
You like to invite friends to dinner? Then a dining table with an extendable function is worth considering.