HOW TO BUY L-SHAPE MULTI SEATER SOFA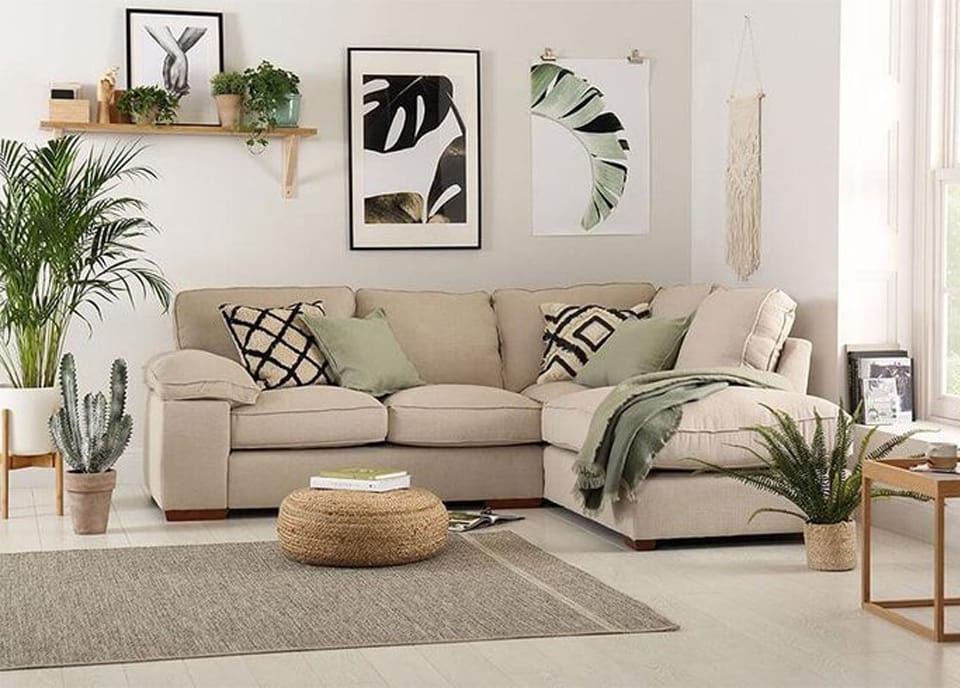 L-Shaped sofa online shopping in Pakistan buying guide
Huh, is it that late? At the movie night with the new romantic comedy and tingling champagne you completely forgot the time. Because you don't want to let your friend drive home alone and it's just too cozy to end the evening anyway, you offer her a place to sleep on your comfortable L Shape Sofa . The couch is softly padded and so large on the long side that your girlfriend can stretch out comfortably. This guide will show you how versatile L Shape Sofas are and which model suits you best.
More than just a stopgap: L-shape L Shape Sofas as a cozy relaxation area
L Shape Sofas have one side of the seat extended at a right angle in the form of an ottoman, so you can stretch out comfortably and put your feet up while you watch TV. On such a model you also have more space for a social gathering with your family or friends and nothing stands in the way of a relaxed afternoon nap.
The L-shaped sofas also have a great visual effect: they look particularly modern and relaxed. Niches and corners can also be used well with it. Of course, corner sets can just as well be set up in the middle of the room. Here they show their talent as a room divider and give your living room more structure by dividing the area into different areas.
Tip: So that the couch fits the floor plan of your apartment, you can often decide for yourself when buying whether the longer piece should be on the left or right.
From leather to fabric: which material suits you?
Do you like it extravagant, are you allergic, do you have children or pets? Depending on this, different sofa covers are possible for you. Here you can find out what the advantages of the different materials are and which cover suits you and your corner couch.
Leather covers: the noble ones
As a natural material, leather is breathable and durable, with no two covers being the same. After all, leather L Shape Sofas are truly unique and the right choice if you like it individual and classy. Genuine leather adapts quickly to body temperature, and it hardly absorbs any odors.
Imitation leather covers: the uncomplicated ones
Faux leather is an inexpensive alternative to real leather. Since imitation leather is robust and easy to clean, it is ideal for families with children and pets .
Fabric covers: from hard-wearing to hygienic
With fabric sofas, you can choose between pure natural fibers and hard-wearing mixed fabrics for the covers. Velvety sofas look elegant and are also robust. Woven fabrics with a coarse or fine structure provide variety. Microfiber  L shape sofa covers are soft and cuddly, but above all very hygienic. Because the synthetic fibers are tightly woven, it is difficult for dust and dirt to get inside the upholstery. House dust allergy sufferers in particular benefit from this.
Tip: For a harmonious look, you can pick up a color tone of the sofa cover in cushions or the living room curtains .
May it be something more? This special equipment is available
Do you also want to use your corner set as an occasional place to sleep or are you looking for a model that will become the focal point of your living room thanks to its eye-catching design? Here you can get an overview of the wide range of equipment options for your new couch.
With bed function
Spacious XXL L Shape Sofas are usually so wide that you can stretch out comfortably on the corner extension and sleep on it. An alternative are upholstered corners with a bed function: here the backrest can be easily folded down to enlarge the lying surface. This is how your sofa can be turned into a guest bed in just a few simple steps .
Tip: It is often enough to remove the loose back cushions to make room for spontaneous overnight guests.
With bed box
The spacious boxes are located under the sofa cushion and can be easily opened or pulled out. This gives you storage space for bed linen, pillows and blankets.
Tip: Make sure that you allow enough space to open pull-out bed drawers.
With integrated shelf
Not only the upholstery, but also the armrests can be tough on a corner couch. There are variants with integrated shelves in which books, magazines or even the coffee cup find a safe place. Such multifunctional armrests can even replace a coffee table - practical if the room is already quite full. 
With lighting
Sofas with LED lighting ensure atmospheric lighting effects in the evening. In such models, energy-saving light tubes are incorporated into the baseboard or on the armrests , which let your upholstered corner shine. You can use the remote control to set the color in which the couch should light up.
Plenty of space to sit and lie down: the dimensions
The characteristic L-shape, where one side is longer than the other, is something that all L Shape Sofas have in common. This creates two separate areas that can also differ in their seating and lying depths.
The seat depth varies depending on the model: in some, the seating area is designed with a depth of around 50 cm, but can go up to over 100 cm. Do you like to lean back and relax or do you prefer to sit up straight? In the latter case, less deep seats are good for you.
L Shape Sofas have a surface that is slightly longer and deeper: the lying surface. This part can either only last a short distance or serve as a spacious sunbathing area. Especially if you or someone in your family is very tall, there is plenty of space to stretch out here. The dimensions are usually between 150 and 200 cm.
Classic or modern: Which L-shape L Shape Sofa underlines your style?
In order for your corner couch to blend in well with your home and not look like a foreign body, it should match the design of the other furniture and accessories. Here you will find inspiration for interior design in classic, country and modern style.
Very classic: light and natural
Neutral colors and light wood furniture provide natural charm in the classic style of living. This is complemented by a corner set with a soft cover made of woven fabric in subtle cream or sand tones. Striped decorative cushions, which combine the beige basic tone with a strong green, provide splashes of color. An elegant Berber carpet in shades of brown comfortably frames the sofa.
Beautifully rural: traditional and warm
For a rustic, country feel, add a square button-back leather couch to your living room to mimic a traditional Chesterfield sofa . In brown, it goes well with a dark solid wood wall unit. In the evening you can make yourself comfortable on the couch with a warm plaid with a rustic tartan pattern.
Top modern: glamorous and cool
Cool colors such as white, black or anthracite and furniture with linear shapes predominate in the modern furnishing style. Here, an upholstered corner fits well into the living concept. An illuminated footer in cool shades of blue provides accents. Match it with a square coffee table with metal feet that reflects the light beautifully.
Stay nice and clean: ten care tips for your corner couch
To ensure that you can enjoy your corner set for as long as possible, you should take care of the different materials properly. Consult the manufacturer's label for instructions. You can get more cleaning tips here.
Twist and turn the loose cushions on your sofa from time to time and shake them regularly. This keeps them evenly thick and soft.
Baking soda can get rid of bad smells. Simply sprinkle some of the dry powder over the upholstery and vacuum it up the next day.
You can easily remove superficial dirt and dust with the upholstery nozzle of your vacuum cleaner or a normal clothes brush.
Rub off animal hair with rubber gloves. You can also remove the hair with tape or a rubber hand brush.
In order to protect your sofa, you should not place it in the immediate vicinity of a window or heater. Strong sunlight can fade the colors, dry heat makes leather easily brittle.
Since tap water is often calcareous, it is advisable to use boiled or distilled water for cleaning to avoid limescale stains.
Real leather sofas can be cleaned with leather, saddle or curd soap and should be polished with leather cream and occasionally impregnated twice a year.
Removable fabric covers can often be cleaned in the washing machine. You can find detailed information on the care label of your sofa. You can also clean your woven upholstery with a baking soda and water mixture. Mix about an equal amount of water with baking soda and apply the mixture to the stain. Leave it on overnight and vacuum off the rest of the powder the next day.
Microfiber covers can be cleaned with carpet or window cleaner. Gently blot the stain from the outside in.
You can simply wipe artificial leather with a damp cloth and a little washing-up liquid. 
We ship to Lahore Karachi Islamabad Rawalpindi, Faisalabad, Multan, Gujranwala, Gujrat, Sialkot, Sahiwal, Bahawalpur. and all other cities of Pakistan..
Conclusion: L Shape Sofas are a practical room solution
L Shape Sofas catch the eye with their distinctive L-shape and make good use of the available space in a room. You can read about the other advantages of the angular couch models here in brief:
On the upholstered side extended across the corner, you can stretch out from head to toe and put your feet up relaxed while watching TV. You can usually decide for yourself whether the ottoman should be on the left or right.
Models with a bed function can be transformed into an even larger sleeping space in just a few simple steps. An integrated bed box offers additional storage space for blankets and pillows.
Illuminated baseboards make the sofa an eye-catcher, armrests with a shelf function can replace the coffee table.
Real leather covers are unique and a good choice for individualists. Imitation leather is cheaper and is suitable for families because it is easy to care for. Microfiber covers are good for people who are allergic to house dust. Colorful variants made of woven fabric score particularly well with their large variety of designs.