HOW TO DESIGN KITCHEN CABIENETS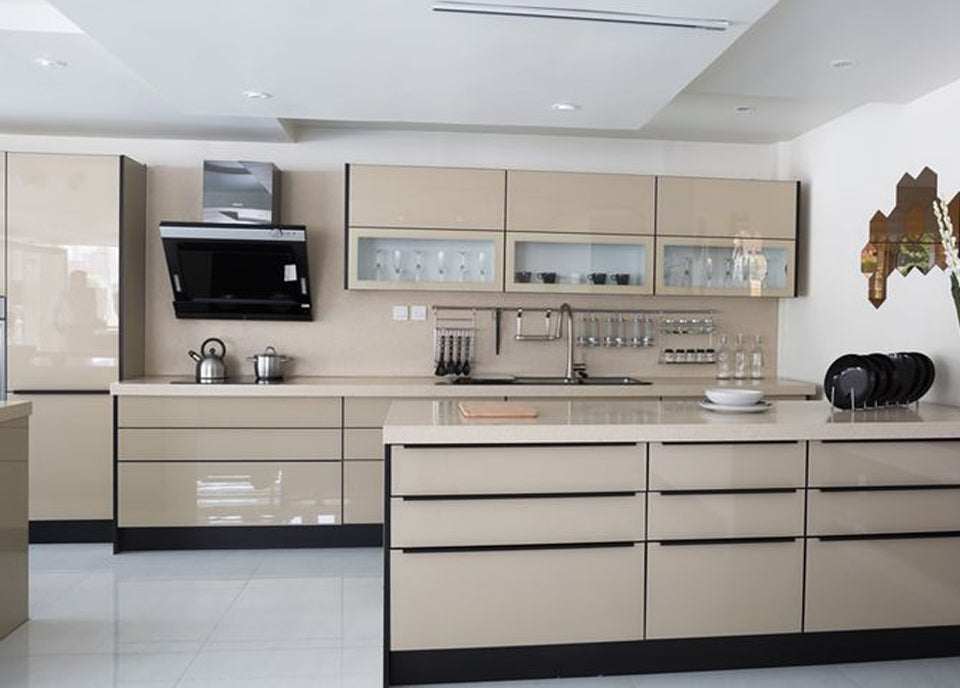 Finally, life in a shared apartment is over and you can move into your own apartment and set it up according to your taste. You are particularly looking forward to the kitchen – as a passionate hobby cook you now have enough space in the kitchen cupboards to stow your pots, pans and one or the other electrical appliance. Here you can find out what you should consider when buying and what types of cabinets are available.
Kitchen cabinets: overview of utensils and supplies
Kitchen furniture can be grouped systematically and precisely around the stove, sink and refrigerator. The cupboards are designed in such a way that you can store your cooking utensils within easy reach. Practical features such as sliding and revolving doors, solid worktops, pull-outs and interior drawers ensure an uninterrupted workflow and sufficient freedom of movement.
Individually assembled cupboards offer a lot of flexibility and can also be easily arranged in a new room after a move, for example. If you move to a larger apartment, you can simply expand the existing kitchen base cabinets into a cooking island. Conversely, you can reduce your modular cabinets to a compact kitchenette in no time at all, which you can add, for example, to a few kitchen wall cabinets or corner base cabinets.
Designed to fit: Overview of the models
Kitchen cabinets are available in many coordinated designs that you can put together in modules - depending on how you want to set up your kitchen and what the space allows. If you stick to one series, you can combine models in different heights and widths. You can choose from these cabinet models.
Kitchen base cabinets: are the foundation of the kitchen
The foundation of a kitchen consists of the kitchen base cabinets. They support the worktops on which food and dishes are prepared and should therefore be at an ergonomic height that suits your height. Heavy-duty interior floors and spacious drawers accommodate heavy pans , pots and kitchen utensils, but also cutlery in such a way that you can reach everything easily and conveniently. Corner base cabinets are often equipped with revolving doors and roundels - this means that the entire space in the base cabinet is used and you can reach the contents quickly and easily.
Wall cupboards in the kitchen: do not take up any space
Lighter kitchen utensils, frequently used spices and crockery can be stored in kitchen wall cabinets, which take up no floor space and are attached to the wall. Cups, plates and bowls are within easy reach at head height, and there is space for LED lights on the underside of the furniture to illuminate your workspace while you cook.
Sink cabinets: opaque front for order
In sink cabinets, visually less appealing things such as water connections disappear behind a door front and you also get a bit of additional space to store and store other utensils. Sink cabinets are available with and without an integrated built-in sink, with a door and base for a dishwasher, or as extra-wide versions with an additional drawer cabinet.
Conversion cabinets: ensure a uniform look
Convertible cabinets combine the flexibility of individual cabinets with the advantages of a fitted kitchen: You can store your built-in kitchen appliances in this furniture, so that the cooker, hobs, refrigerator and oven match the rest of the design of your kitchen.
Apothecary cabinets: storage space with drawers
You like to cook with lots of spices? Apothecary cabinets are a good choice for clearly arranged storage of small jars, bags or shakers. But sugar, coffee or flour can also be quickly removed from the practical compartments of this kitchen furniture. The mostly slender tall cabinets also fill kitchen niches well.
Pantry cupboards: a cupboard for everything
Cooking and baking ingredients, towels and tablecloths or even buckets and cleaning products - you can store all the things that are needed in your kitchen in pantry cupboards. Here they are protected from dust, moisture and light. The multi-purpose cabinets are usually available in space-saving portrait format.
Fronts and worktops: the materials
The kitchen is known to be the heart of the house. It is therefore all the more important to set it up and design it according to your ideas. The kitchen modules should also reflect your taste - from the fronts to the worktop and the type of wood.
Types of wood: real wood, wood décor and wood-based material
The body of kitchen cabinets is usually made of solid wood or derived timber products. The latter are stable panels that are pressed together from wood chips or wood fibbers. Varnishes and coatings protect the wood from wear and tear and have a moisture-repellent effect. In terms of price, kitchen cabinets made of engineered wood are cheaper than solid wood designs, although the price depends heavily on the type of wood. Noble, finely grained walnut wood is more expensive than simple oak or beech.
If you value a look that is as natural as possible, kitchen furniture made of oiled solid wood is recommended. However, this material requires a little more maintenance. You should refresh the surface every now and then with wax balm or wood oil. a kitchen made of real wood is particularly robust and durable, so you will enjoy your kitchen cabinets for a long time.
Furniture fronts: robust and easy to care for
The fronts of kitchen cabinets are usually coated with a very hard two-component paint or with a resistant plastic. Surfaces made of melamine resin, which are particularly abrasion-resistant and resistant to chemicals, are even stronger. They can be easily cleaned of dirt and oil splashes with water, washing-up liquid and grease-dissolving cleaning agents . High-gloss paints are more sensitive to scouring agents and solvents: therefore only use water-soluble and mild furniture cleaners and soft cotton cloths without abrasive particles. It is also better to wipe up leaked or spilled liquids immediately. Kitchen fronts with decorative coatings are available in many different colors so that you can design your new kitchen individually.
Countertops: different finishes to choose from
The worktops of kitchen furniture are made of sealed plywood or real wood, ceramics, glass, concrete, marble, stainless steel, artificial stone or natural stone. They have a lot to achieve and have to withstand our cooking skills every day. Stone slabs are usually easy to care for - pay attention to the information in the product description. If you want a natural look in your kitchen, you can use a worktop made of solid wood. These are particularly thick and make the kitchen cosy. In order to work or cut food, a cutting board should still be placed underneath.
Elegant to rustic: It suits your style
The design of kitchen cabinets ranges from a modern high-gloss look to a cozy country house style. Therefore, choose furniture that corresponds to your personal well-being and harmonises with the rest of the interior. Here is a brief overview.
Country style: homely and natural
Do you feel particularly comfortable in surroundings that are as natural as possible? Then kitchen cupboards, in which the wood character comes into its own, are a good fit. Types of wood such as beech, oak or pine with a visible structure spread a light and cozy atmosphere. Alternatively, the furniture is simply glazed in white. Romantic wooden ornaments, filigree handles, lattice windows and worktops made of natural stone underline the character.
Classic living style: durable and timeless
Restrained furniture and rather subtle colors characterize classic kitchen furniture. Fine types of wood such as walnut or cherry create a timelessly elegant look that is nevertheless comfortable. Kitchen cabinets in grey or beige are also reserved with their simple design and underline the elegant style. The furniture handles are ornate and of high quality.
Modern style: reduced and simple
Modern kitchens are characterized by simple and reduced furniture in restrained colors such as white or black. They are often combined with shiny surfaces in red or blue, which ensures a fresh look. Glass doors, chrome panels and handle-free fronts emphasize the slightly cool elegance. A matching glass dining table and chairs with metal legs complete the modern style.
Five tips for building and maintaining kitchen cabinets
Since you are constantly dealing with food in your kitchen, hygiene is particularly important here. But even before assembly, you can note a few things so that the kitchen cabinets are the right height. Here are five tips for your kitchen modules:
As a rule of thumb, the kitchen modules should be hung at least 50 cm away from the worktop . This leaves enough room for you to cook or work.
How high you should really hang the cabinets also depends on your gripping height. Make sure you can easily reach the handles and contents of the kitchen cabinets.
Heavy objects such as casserole dishes, pots or roasters should be stowed below shoulder height, i.e. in the kitchen base cabinets.
When you put things away, think about what you use often. You should then place these in the front areas of the cupboards so that you do not have to search for them for a long time.
To clean your kitchen cabinets, first empty them completely and wipe the surfaces with a damp cotton cloth. You can use water or a bit of all-purpose or glass cleaner for this. Then wipe with a dry kitchen towel to remove any residual moisture. This is important to prevent mold from forming in the cupboards later.
.
Conclusion: Furnish your kitchen flexibly with kitchen cabinets
Compared to a fitted kitchen, individual kitchen cabinets can be arranged as desired. This is a great advantage, especially if you have a very individual idea of ​​your cooking area. Here is a summary of what you should look out for when choosing kitchen cabinets:
The body of kitchen cabinet is usually made of solid wood or engineered wood, with engineered wood being the cheaper choice. Solid wood versions are a little more elegant, but also more expensive.
The fronts of the kitchen cabinets are coated to protect them from external influences. Melamine resin surfaces in particular are very robust and easily withstand daily wear and tear.
When it comes to worktops, stone is a low-maintenance option because it is easy to clean after cooking. Solid wood worktops are particularly thick and make the kitchen very homely.
Kitchen cabinets made of beech or oak, which are rounded off with romantic wooden ornaments, go well with country kitchens. Dark woods such as walnut or cherry fit well into classic kitchens, and cabinets with handle-free high-gloss fronts can be found in modern kitchens.
When attaching the cupboards, make sure that you can reach the door handles and the things in the cupboard compartment as easily as possible without contortions.