HOW TO PURCHASE MICROWAVE OVEN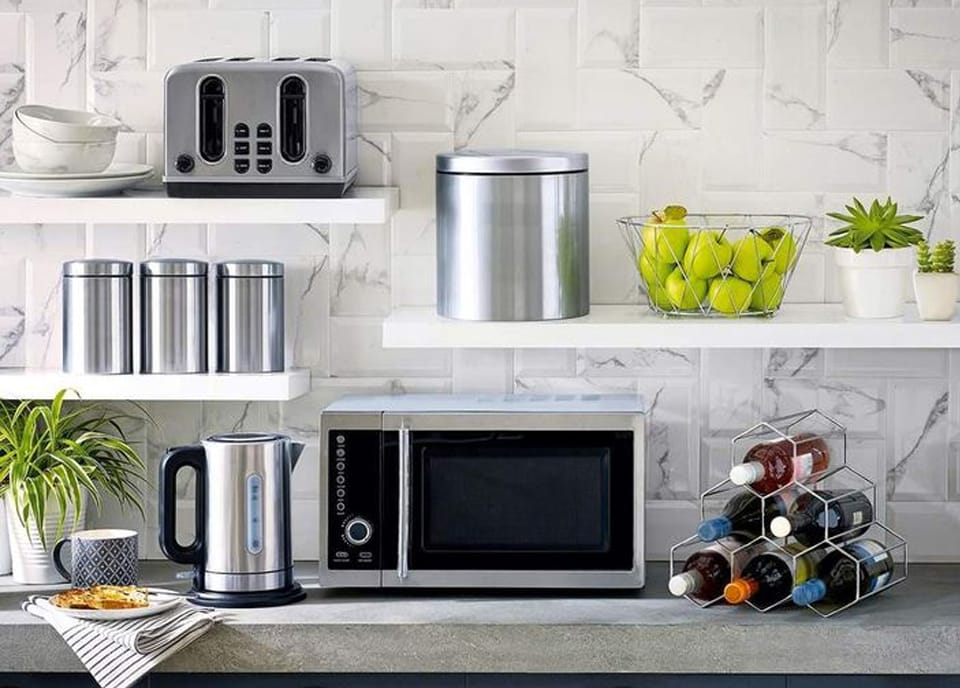 Microwave oven online shopping in Pakistan buying guide
Sunday lunch was tasty but there was still a lot left over. When the children come home from school on Monday afternoon, they look forward to the leftovers. You simply place the chilled leftovers on plates or in cups in your microwave , choose the right program with the right duration - and you don't have to cook extra today. The compact small kitchen appliance saves you from heating up the stove or oven and using new cookware. In this buying guide you will find out which models are available and how to choose the right appliance for your kitchen.
Microwave ovens are everyday helpers in the kitchen
Microwave ovens speed up kitchen work. The devices show their strengths especially with smaller quantities. If you just need some liquid butter for your cake batter or if you want to enjoy your muesli in the morning with defrosted frozen berries, both are ready after a few seconds or minutes . Microwaves achieve the short preparation times with the help of electromagnetic waves. They set the water molecules in the food in motion and thus generate frictional heat.
Spacious combo models with additional grilling and baking functions can even serve as a space-saving stove replacement in small kitchens, in the office or in the mobile home. From the ready-made pizza to the chicken, you can put a lot of food on the table in a short time.
Model overview: from single microwaves to combination devices
Important distinguishing features for microwaves are the way they are integrated into the kitchen and the operating modes. The following models are available:
Built-in microwaves for kitchen cabinets
If you value a uniform look in your kitchen, built-in microwaves are recommended. Its housing is designed so that you can mount it in a cupboard at a conveniently accessible height and its front matches the rest of the kitchen. You can also attach built-under devices to the outside floor of your kitchen wall cabinets . Either way, you save the footprint that free-standing microwaves take up on the countertop.
Microwave without grill function
Microwaves without a grill, convection or baking function are ideal for heating up or defrosting food quickly . The monofunctional devices are particularly easy to use and economical to operate. However, they are not suitable for tasks such as gratinating food or preparing crispy meat.
Microwave with grill function
Pizza, browned chicken thighs or Hawaiian toast are dishes that work well in the microwave with grill . Quartz or infrared grill elements ensure crispy surfaces and roasted aromas in the cooking chamber. Depending on the model, the heat comes only from above or from the side or below. Microwave ovens with inverter technology grill particularly evenly even without a turntable.
Microwaves for grilling and baking
Microwaves with grill and hot air offer the full functionality of an oven in a compact appliance . In addition to grill elements, they are equipped with a hot air fan and work like a convection oven. This also rises dough, so you can also bake cakes or rolls with these models. As a rule, combi microwaves have programs that use several operating modes. Vegetables, for example, are first cooked in the microwave mode and then au gratin on the grill.
Important selection criteria for microwave ovens
When it comes to the features of microwaves, the spectrum ranges from the simple heating function to a time and power preselection to sophisticated special functions for steaming or deep-frying. You should consider the following features when making your purchase decision.
cavity size
The capacity of the microwave of your choice depends on the size of the household on the one hand and the food you want to prepare with it on the other. A volume of less than 20 l is recommended for single people and small portions, and 21 to 25 l for two people. 30L models are suitable for a family of four. If the small kitchen appliances are also to be used as an oven replacement for voluminous roasts, large pizzas or cakes, around 40 l are suitable. With a grate that is usually included in the scope of delivery, you can use two levels in the large-capacity units.
Tip: If you already have a set of good microwave dishes , a comparison with the size of the turntable or the interior dimensions will ensure that all the vessels will fit in the new device.
performance
The capacity of the microwave should match the size of the cooking space. With a volume of up to 25 l, 900 W is sufficient, in the grill mode around 1,100 W. In the hot air mode, 2,500 W is a good guide value. Make sure that the watt specification of large-capacity microwaves with around 40 liters of usable capacity is correspondingly higher so that food does not cook unnecessarily long.
Additional operating modes
In addition to microwave, grill and hot air functions, some devices have other operating modes that can usefully complement your kitchen equipment. The steam cooking function allows you, for example, to prepare food in a way that preserves nutrients. French fries lovers will benefit from a frying function, also known as the slim fly or crisp function. With an extra designated pizza function, a pizza plate is usually included in the scope of delivery so that the base is crispy. Defrosting programs or fermentation functions for the production of yeast dough or yoghurt are available as additional operating modes.
automatic programs
At what temperature and for how long should the fish fillet cook and when are the vegetables soft? If you don't want to worry about that, microwaves with automatic programs can help. You simply select the food, enter the weight and press the start button: the device does the rest. Models with a sensor function even determine the quantity automatically.
operating concept
Simple devices are usually equipped with two rotary controls for setting the wattage and the cooking time, combo microwaves also have program buttons and a digital display. The more operating modes and functions the models master, the more complex the operation becomes. Quick references attached to the housing are a great help in choosing the right settings in this case. A storage option is useful if you have already gained experience in preparing your dishes. You can simply save the configuration and recall it later with the push of a button.
comfort features
Extras such as an automatic switch-off, keep-warm function, touch operation and cooking timer increase the convenience of the device. Catalytic coatings make cleaning easier for grilled and convection microwaves because grease splashes do not stick. You can find oven covers online to protect from scratches.
How to find the right microwave
Depending on what you want to do with your microwave, simple or multifunctional models are possible.
Occasional warming up and thawing
If you mainly use your microwave to occasionally heat up a sausage or a finished dish, microwaves with a pure heating function are sufficient. The solo models are easy to use: you set the wattage with one rotary knob and the time with the other. If you also want to bake crispy pizza and bread rolls, the microwave should be equipped with a grill. Prices start at around €60, with built-in models costing up to €1,000.
Common use in cooking
If you want to use the microwave oven for the regular preparation of food, models with several operating modes are worthwhile . With a grill and hot air function, you can roast meat and fish, bake cakes and prepare gratins and casseroles. The cooking space should be large enough for your casserole dishes. Models with sensor electronics and automatic programs are practical for beginners: complete meals can be prepared with them even without experience. The combination devices are available from €100, top models with other operating modes such as steam cooking and comfort features cost up to €600 as free standing devices, and up to €1,900 in the built-in version.
Tip: In the UPDATED guide " Cooking with the microwave: surprising recipes" you will find many recipes and tips.
Use as an oven
If you don't have an oven in your kitchen, large-capacity microwaves oven with a cooking space of 40 l are a fully-fledged replacement. You can cook food on top of each other using insert rails, while rapid heating functions make the devices quickly ready for use. Grill grates, crisp plates and cooking trays increase functionality as accessories. You can get free-standing XXL microwaves with hot air and grill functions from €350, built-in models cost between €700 and €1,800.
This is how your microwave stays clean
If milk overflowed when you heated it up in the microwave, or if spatters of fat and leftover food stuck to the inside walls, you should remove the residue with a damp cloth and a little washing-up liquid immediately after switching off . Older stains that are already stuck can be soaked with vinegar vapor. How this works is explained in the article " Cleaning the microwave " in the UPDATED technology portal.
Tip: A microwave cover for turntables and microwave dishes with a lid prevents stains from occurring in the first place. The splash guard is available in various sizes as an accessory for a few euros.
Tips for correct use
To prevent microwaves from overheating, the minimum distances to the walls specified in the manual should be observed when setting them up. In addition, the following information should be observed:
Combination devices can get very hot, especially in grill mode. With standing models, you should therefore not place any objects on the housing.
Not every plastic container and every plate is suitable for heating in the microwave. Thin plastic can deform, delicate porcelain can break.
Metal gives off sparks when the microwave is in use, decorative edges on cups and plates are sufficient for this.
You can tell whether your storage jars are allowed in the devices by the imprint "microwave-safe" and the symbol with the waves in a rectangle.
.
Conclusion: Compact kitchen appliances for quick cooking pleasure
Food and drinks can be heated faster with microwaves than on the hob. Additional operating modes such as grill, hot air and steam cooking expand the range of uses of the practical helpers, so that you can also use them to prepare whole meals and menus. Available as built-in and free-standing models, the small kitchen appliances can be integrated into cupboard niches or placed on the worktop.