WHAT ARE MATTRESS PROTECTORS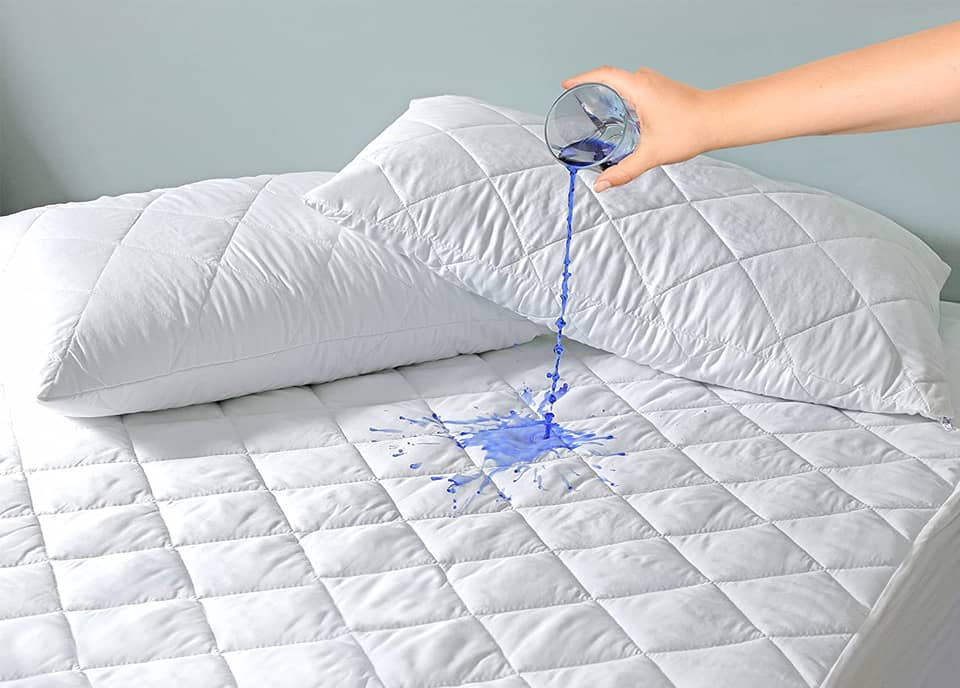 When making your bed, you discover small holes and abrasions on the underside of your mattress. This is probably because the slatted frame rubs against the mattress at night. A mattress protector is needed. With such a pad between the mattress and the frame, you will soon be rid of this problem. This protects your comfortable mattress from abrasion and you can sleep peacefully. In this guide you can read why mattress protectors make sense, what materials they are made of and which version suits you best.
Protect the mattress in the long term and protect it from dirt
Mattress protectors are a barrier between your mattress and the slatted frame: they serve as protection and can help your mattress last longer. The protectors reduce the friction between the mattress and the slatted frame. They also prevent dirt and dust from getting on your mattress from below. At the same time, a protector can improve the ventilation of your mattress and prevent mold because the mattress no longer rests directly on the slatted frame . Similar to a fitted sheet, you attach your mattress protector to the lying surface with elastic bands so that it cannot slip so easily. By the way, you can simply wash most of the protectors in the washing machine. This is particularly useful if you have a house dust allergy. Find out more about this in the manufacturer information.
These materials protect and protect your mattress
Mattress protectors are made of different materials - they have different advantages accordingly. Depending on the type of fabric, you can use the thin fabric mats for other purposes. Here is an overview of materials and their advantages.
Various advantages combined: blended fabric
Mattress protectors made of blended fabrics can be made from different fibers: for example wool, viscose, cotton, acrylic, polyester or polypropylene in different proportions. In this way, the positive properties of the individual fibers are combined in one product: wool, for example, absorbs a lot of moisture and can collect dust. Polyester is very abrasion resistant and durable.
Insulates particularly well: needle felt
So-called needle felt is available in many materials: synthetic fibers such as viscose staple, but also natural fibers such as jute, cotton and wool. In the case of needle felt, the fibers are mechanically connected to one another by means of needle plates that hook them together. Such protectors are very abrasion-resistant and durable. Needle felt also insulates particularly well and ventilates your mattress thanks to its open-pored structure.
Keeps the heat in your bed: Thermofill fleece
Do you like to sleep at a cool room temperature, but do you like it cozy and warm in bed? Then mattress protectors made of special climate fibers such as Thermofill fleece are recommended for you. Due to its high insulating capacity, your mattress does not cool down so easily. In combination with a warm feather bed you have a pleasant sleeping climate on cold nights.
Heat regulation without chemicals: natural materials
If you prefer it natural, grab a mattress protector made from natural fibers. There are purely natural products, for example made from sheep's wool, coconut fiber or jute. These fabrics are naturally warming and moisture-regulating.
Tip: If you have an animal hair allergy, coconut fiber or jute are particularly suitable for you.
Fixed: with knobs
A nubbed underside makes mattress protectors non-slip. The mattress lying on the protector does not slip so easily. Most of the nubs have a mineral point coating. This also improves the ventilation of the mattress.
6 cleaning tips: How to care for your mattress protector
Since your mattress protector is often exposed to dust, you should wash and care for it regularly. Here are tips on what to look out for when caring for the fabric mats.
For a quick refresher, you can air out and beat out your mattress protector at the open window or over the balcony railing . Most manufacturers also advise washing the pads every three months.
Pre-treat stubborn stains before washing. Gall soap is particularly suitable for this.
Mites die off at at least 60 °C in the gentle cycle. To gently bleach the mat, add a teaspoon of baking soda to the detergent compartment.
You wash wool pads by hand in the bathtub. Use lukewarm water and wool detergent for this.
You can put some mattress protectors in the dryer at low temperatures. However, it is better if you let them air dry. To do this, pull the saver apart and hang it over a drying rack.
Always follow the manufacturer's care instructions on the product label.
We ship to Lahore Karachi Islamabad Rawalpindi, Faisalabad, Multan, Gujranwala, Gujrat, Sialkot, Sahiwal, Bahawalpur. and all other cities of Pakistan.
Conclusion: With a protector, your mattress can last longer
A mattress protector protects your mattress from wear and tear and helps to ventilate it well. Choose your saver depending on which aspect is most important to you.
Your mattress protector should above all insulate well? Then choose a model made of thermofill fleece or needle felt.
If you want a very abrasion-resistant material,go for mattress protectors made of a mixed fabric with abrasion-resistant polyester.
You want a saver made of natural fabrics? Variants made of new wool, coconut fiber or jute do not require any chemical fibres.