WHICH WOODEN CHAIRS STYLE IS BEST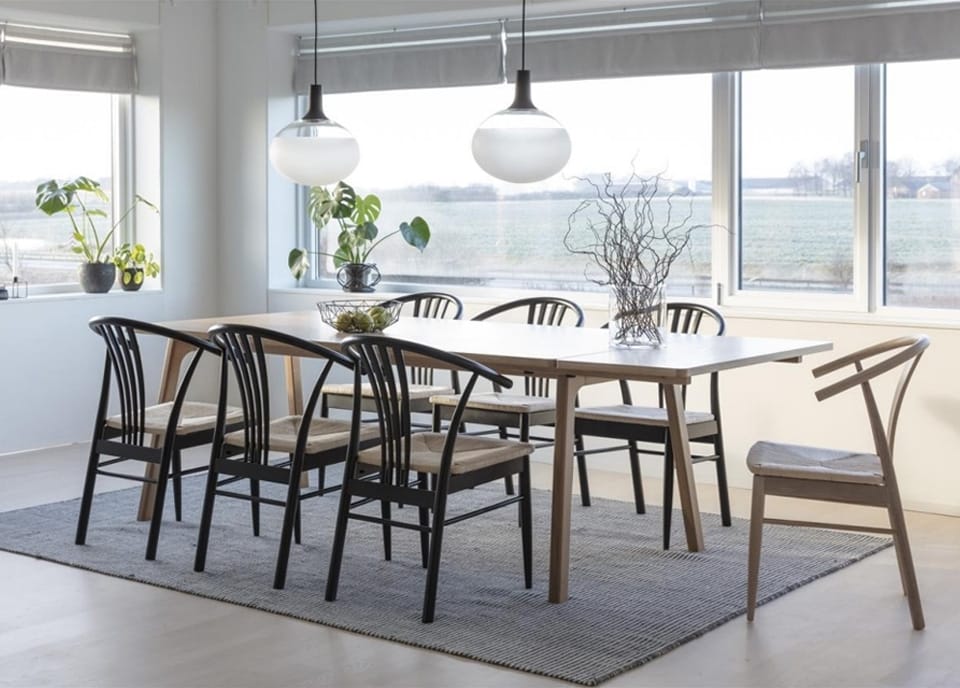 It's almost time - you're moving into an apartment with your boyfriend. You've been planning the big move for weeks. You won't be able to take all the furniture with you, because you don't need two beds or dining tables. But your cozy wooden chairs should definitely have a place in the new apartment. Fortunately, your friend doesn't mind, after all, the natural seating is easy to combine with its soft brown tones. This guide will show you how versatile wooden chairs are in terms of shape and material.
Warm and durable: wooden chairs are truly unique
Wood is a durable natural material that is often used for seating next to cupboards , beds or tables. Wooden chairs are very robust and, thanks to their natural colour, appear warmer and more comfortable than, for example, metal chairs. Each piece is unique, because no tree is like the other, which is noticeable in the individual grain.
Wooden chairs are a good choice if you value sustainable and durable furniture. Since they absorb moisture from the air and partially release it again, they also help to regulate the indoor climate.
Tip: When buying, look out for the FSC seal, which stands for environmentally friendly deforestation.
With or without armrests? You have these models to choose from
Are you looking for a wooden chair for your dining area or do you want to sit comfortably on it and read a book? Depending on the type of use, a different model may be suitable for you. Here you get an overview of the individual variants.
Classic sash chairs without armrests
The classic are slatted chairs, which have a backrest but typically no armrests. The narrow chairs with the decorative wooden rungs look elegant and look good at the dining table thanks to their compact shape. So that you can sit comfortably at the table, there should be a distance of 30 cm between the tabletop and the seat.
Tip: For more comfort, you can upholster the wooden chairs with soft seat cushions .
Comfortable armchairs with armrests
Large armchairs, which have a deep seat and armrests like an armchair , are particularly comfortable . The backrest is often curved and thus adapted to your body shape. Rounded seat shells are also not uncommon and, together with fabric or leather upholstery, bring a cozy lounge flair to your home. If you want to use the armchair at the dining table, you should measure beforehand whether the armrests will also fit under the table.
Tip: Set up a rustic reading corner like in grandmother's time with a wooden rocking chair .
Veneer or solid wood? A question of the material
Whether you choose a wooden chair made of solid wood or veneer is ultimately a question of your personal preferences. Read here how the materials differ.
Sturdy solid wood
As the name suggests, chairs made of solid wood are particularly solid, durable and robust. Special features such as knots or twists can be clearly seen in the wood, because it is sawn directly from the tree trunk. To protect it, the wood can be oiled, waxed or varnished.
Lightweight plywood
Veneers are thin sheets of wood that are removed from the trunk. These are then glued to real wood. Chairs made of veneer wood are made of wood just like solid wood furniture. The wood cut is cheaper, lighter and has a more even grain.
Nordic or rural? The right wooden chair for your style
Wooden chairs in different designs can underline your personal interior. The following furnishing ideas will help you to find a suitable wooden chair model for your living style.
Subtle Scandi style
The Scandinavian style of living has a preference for fresh colors and natural materials - what fits better than a group of four light wooden chairs around a wooden table ? Slatted chairs harmonize with this, as do shell chairs with a gray or pastel-colored fabric cover on subtle wooden legs. Faux fur as a seat cushion gives the wooden chairs Nordic charm.
Unusual industrial style
If you dream of a loft in the big city, the industrial living style is definitely to your liking. A dining room with brickwork-style wallpaper and a dining table on metal legs that look like railway sleepers is rounded off with chairs made from recycled teak or mango wood. Paint splashes and dabs of color make the furniture look old.
Playful country style
A rustic dining room looks romantic with a white lacquered table and matching wooden chairs. Turned chair legs and playful carvings on the backrest are great details. Checked or floral chair cushions go well with this , and you attach them to the chair with decorative bows.
Three care tips: This is how your wooden chairs stay beautiful for a long time
If you take proper care of your wooden chairs, they can serve you well throughout your life. The following tips show you what you should consider when handling wood.
With lacquered wooden chairs, the surface is sealed so that you can wipe it off with a damp microfiber cloth. Untreated wood is sensitive to moisture and should be dried immediately after wiping with a smooth chamois leather.
Use neutral soapbox remove stains and always wipe the surface of the chair in the direction of the wood grain.
Natural or pre-treated wooden chairs need a refresher treatment with wood oil or wax about every three months - this protects the wooden chairs from dirt and drying out. If you rub off scratches with abrasive fleece, you should also treat this area accordingly. Observe the manufacturer's instructions.
.
Conclusion: Wooden chairs bring a piece of nature into your dining room
Whether completely or only partially made of wood - wooden chairs not only look natural, they are natural too. The robust material makes it a durable seat that you can use to make your home cozier. Important information is summarized here:
Narrow chairs without armrests are in good hands at the dining table . You can use large armchairs with armrests and rounded backrests in a cozy reading corner.
Chairs made of solid wood are particularly robust and are unique thanks to their individual grain. Variants made of natural veneer wood are an inexpensive alternative. They are extra light and have an even grain.
Discreet slat chairs or fabric-covered shell chairs on wooden legs go well with the Nordic style of living. Models made of recycled wood with splashes of paint have an industrial look, and white wooden chairs with carvings harmonize with the country house style.
Natural, waxed and oiled wooden chairs need regular care with wood wax or oil. Lacquered chairs are less complicated and less sensitive to moisture.